Having overtaken TV ad spend for the first time in 2015, online advertising now leads TV by over €7bn across Europe, according to new research.
Having overtaken TV ad spend for the first time in 2015, online advertising now leads TV by over €7bn across Europe, according to new research.
The findings, from IAB Europe, in collaboration with IHS Markit, looks at the state of the European online advertising market. The report reveals the key milestones culminating in this year's market value of €41.9bn.
2016 was the seventh consecutive year of double-digit growth for online advertising which continues to be driven by mobile and video. Core to this growth is creative innovation allowing more seamless integration of mobile and video ad formats into media content, as banner overlays are replaced by context-adaptive and native formats.
Online advertising again compensated for declines or slower growth in other media to drive a historical all-media advertising market high in Europe of €112.4bn.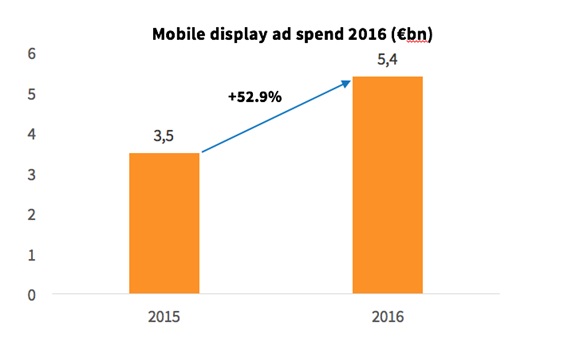 Top 10 Rankings – mobile display spend
1. UK – €2.6bn
2. France – €0.7bn
3. Italy – €0.6bn
4. Germany – €0.3bn
5. Norway – €0.2bn
6. Sweden – €0.2bn
7. Netherlands – €0.1bn
8. Russia – €0.1bn
9. Turkey – €0.1bn
10. Poland – €0.1bn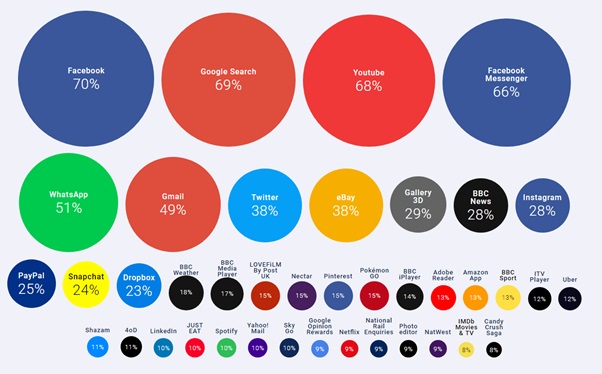 Top 10 Rankings – video spend
1. UK – €0.8bn
2. Italy – €0.4bn
3. Germany – €0.3bn
4. France – €0.3bn
5. Spain – €0.2bn
6. Belgium – €0.1bn
7. Netherlands – €0.1bn
8. Sweden – €0.1bn
9. Russia – €0.1bn
10. Czech Republic – €0.08bn
Top 10 Rankings – year-on-year growth
1. Romania – 36.9%
2. Slovenia – 33.2%
3. Ireland – 31.4%
4. Czech Republic – 25.3%
5. Slovakia – 23.6%
6. Bulgaria – 22.9%
7. Hungary – 22.5%
8. Spain – 22.3%
9. Sweden – 21.8%
10. Russia – 19.3%
Townsend Feehan, CEO of IAB Europe said, "The eleventh edition of the AdEx Benchmark report reveals that digital has strengthened its position as the primary medium for advertising in Europe, as advertisers follow users online. With this increasing share of advertising spend and user time comes increased responsibility. IAB Europe is invested in reinforcing advertiser confidence in the new opportunities, notably with our European viewability certification initiative, and in helping companies across the delivery chain provide ever more transparency and choice to users about how their data are processed in the context of digital advertising and for analytics. We are also working at a global level, via the Coalition for Better Ads, to address the user experience issues that cause ad blocking. It is an exciting time to be in online advertising, and the AdEx Benchmark numbers show the continuing opportunity despite the challenges."
Daniel Knapp, Senior Director TMT at IHS Markit, said "Mobile and video are the powerhouses driving the European online advertising market as we enter a post –desktop banner advertising world. The rules and practices of online advertising have changed with these new formats and screens gaining ground, and our study shows that marketers' and publishers' efforts to innovate both in terms of measurement, delivery, targeting, and creative are paying off. At the same time, our 2016 data shows that search and classifieds & directories have entered a period of rejuvenation with accelerating growth rates. Classifieds & directories is fueled by industry consolidation and search benefits from better adoption of mobile and maps as search interfaces."
Qingzhen Chen, Senior Analyst at IHS Markit, added "In 2016, CEE markets contributed more to European industry growth than ever before. We saw eight countries in the region grow above 15%. Markets like Poland, Czech Republic and Turkey are also among the leaders in mobile and video advertising. At the same time, mature Western European markets remain in healthy shape, with the UK and key Nordic markets growing above European average despite their already high online ad spend per capita."
The report incorporates data from the following online advertising formats:
• Display
• Paid-for-search
• Classifieds and directories
Additional segmentations are:
• Video
• Mobile (display and& search)
The report treats video and mobile display as subsets of display, and mobile search as a subset of search.
The report can be accessed here.
Methodology
The data has been compiled by IAB Europe based on information provided by the national IAB offices around Europe. It is then processed and analysed by IHS Markit. The report includes market size and value information for 2016 for the following markets: Austria, Belgium, Bulgaria, Croatia, Czech Republic, Denmark, Finland, France, Germany, Greece, Hungary, Ireland, Italy, the Netherlands, Norway, Poland, Slovenia, Romania, Russia, Spain, Slovakia, Serbia, Turkey, Sweden, Switzerland and the UK. The data represents the calendar year 2016 January- December. This is the eleventh AdEx Benchmark study which began in the calendar year 2006. Display includes PC-based and mobile banners, rich media and video formats.