With the Royal Wedding just days away, Hitwise, the UK's leading online behavioural insights provider, has investigated the most popular questions and searches the UK has ahead of the royal weekend.
Brits are set to celebrate to in style – 'street parties' are set to crowd Britain's towns and villages, amongst speculation about the dress designer (will it be Ralph and Russo again?), as well as the clear retail King – Amazon.
Key findings:
• 188% increase in searches for "royal wedding street parties"
• 80,000 Royal Wedding related Amazon searches
• 105% increase in searches for wedding designer Ralph and Ruso
1. Roll out the red carpet – it's a street party!
• From analysing the searches of 3 million Brits, across all search engines, the data reveals street parties are on the cards this Saturday
• In fact, Hitwise has seen a staggering 188% increase in searches for "royal wedding street parties" over the past four weeks
• These searches are being led by Brits in the East of England, predominately women (67% aged 55 and over)
2. Bring out the bunting
• The data further reveals 54% of search traffic around the "royal wedding" is heading to News and Media outlets, but another 15% is driving searches to retail sites
• In fact, terms with "royal wedding" were searched for nearly 80,000 times on Amazon since the start of May
• As seen in the table below, Brits are keen to deck their celebrations out with 'bunting' (12,000 searches), 'decorations' (11,000 searches), and 'masks' (9,500 searches)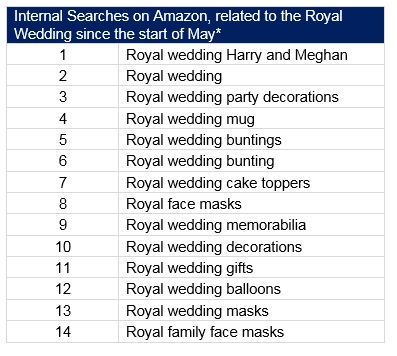 3. But wait, WHO is designing the dress?
As the occasion draws nearer, Meghan and Harry are keeping the nation on their toes as Brits eagerly await the key details: who is designing Meghan's dress? Will she opt for a traditional British designer like Alexander McQueen or keep to her American roots with a Vera Wang?
As the UK turns to the internet in search of confirmation, Hitwise reveals the top three designers driving most queries around the dress, are:
• Alexander McQueen
• Jenny Packham
• Vera Wang
With that said however, there has been a lot of speculation that Meghan may have chosen the same designer as her engagement portrait dress, with the bookies favourite being Ralph and Russo. The designer has in fact received 105% increase in searches in the past week!
4. Top 10 questions
It's clear the UK has a lot of answered questions ahead of the big day, with many Brits wondering what the wedding means for America. Hitwise reveals below the top 10 burning questions of the nation: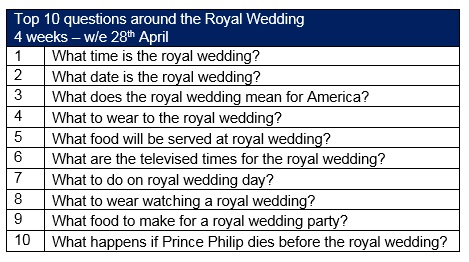 *The Hitwise data is collected from the past four weeks ending 05-05-2018
*Amazon internal search data is collated from 1st – 8th May 2018