Microsoft's Bing is undergoing a major change, partnering Reddit and using AI to try and take on Google.
New features include the ability to summarise the two opposing sides of contentious questions, and another that measures how many reputable sources are behind a given answer.
Speaking at this week's Everyday AI event, Reddit co-founder Alexis Ohanian announced a new partnership with Microsoft.
Through the partnership, Reddit and Microsoft will leverage AI tools to integrate Reddit content in searches, including answers from one of the platform's signature draws, Ask Me Anything (AMA) sessions.
The feature is intended to make interacting with Bing more natural by more quickly surfacing answers to questions with comprehensive information.
As part of Intelligent Search, Microsoft's partnership with Reddit will let it leverage the community of millions in a few different ways, at least initially.
Jordi Ribas, Microsoft's corporate vice president for AI products, said: "As a search engine we have a responsibility to provide answers that are comprehensive and objective."
Bing's new capabilities are designed to give users more confidence that an answer is correct and save them time so they don't have to click through multiple links to validate it themselves.
'You could be asking, 'Is coffee good for you?' We know that there are no good answers for that,' Ribas added.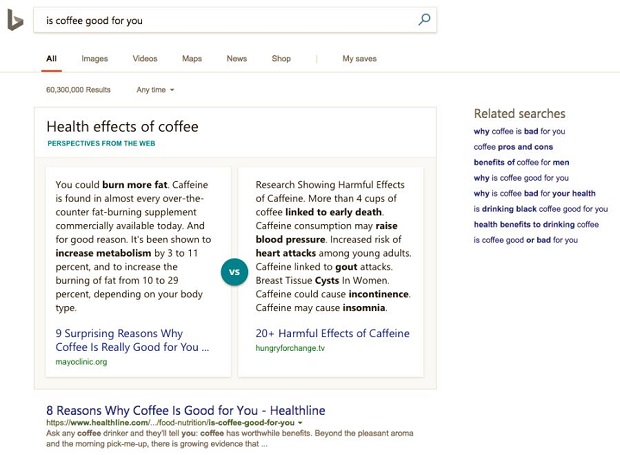 One source emphasises coffee's ability to increase metabolism and another shows it can raise blood pressure. Similar questions can also be asked on more sensitive topics, such as whether the death penalty is a good idea.
As machines get better at reading and summarizing paragraphs, users expect not just a list of links but a quick and authoritative answer, said Harry Shum, who leads Microsoft's 8,000-person research and AI division.
To test its technology, the company has compared its machine-reading skills to the verbal score on the SAT.
The demand for more sophisticated searches has also grown as people have moved from typing questions to voicing them on the road or in their kitchen.
"If you use Bing or Google nowadays you recognize that more and more often you'll see direct answers on the top of search result pages," Shum said. "We're getting to the point that for probably about 10 percent of those queries we'll see answers."
The major new features listed by Microsoft are republished below:
• Reddit Partnership with Bing
o The first search engine partnership of its kind, Microsoft is announcing a new partnership with Reddit, an online community of 330M monthly active users generating 2.5M daily comments, to bring information from Reddit to Bing
o Reddit's data combined with Microsoft's AI technology is bringing benefits to end-users via Bing Intelligent Search and the enterprise via Power BI
• Bing Intelligent Search
o Microsoft is introducing new intelligent search capabilities in Bing that use AI technology to more efficiently connect users with the information they need
o Intelligent answers utilizes machine reading comprehension to present you with multiple perspectives and answers, translating data into easy to understand concepts
• Cortana Announcements
o More personalised email and calendar management, paired with Cortana's ability to understand users' overall intent and offer the most relevant next step
• Seeing AI Updates
o Expanded availability across 35 countries in total, the new features include currency recognition, light detection, handwriting recognition, new document reader view and usability improvements
• New AI Capabilities in Office 365
o Updates in Office 365 time to leave notifications in Outlook, Insights in Excel, and analysing acronyms in Word
• Microsoft are also announcing Cognitive Services and Azure Bot Service updates, a new health bot project, and new customers using our AI offerings
Read the official blog post here