People around the world are likely to spend more than eight hours a day consuming media with the internet driving growth, according to a report.
The study, from ZenithOptimedia, indicates that people will spend an average of 492 minutes a day consuming media in 2015, up 1.4 per cent from 485 minutes a day in 2014; an increase that will be driven by rapid growth in internet use, which will increase by nearly 12 per cent.
Television viewing still takes up the most time for any media consumption, attracting 183.9 minutes of consumption a day in 2014.
Web-based usage came in second, in fact quite some distance removed, at 109.5 minutes a day.
But while television accounted for 42.4 per cent of global media consumption in 2010, it did dip to 37.9 per cent as of last year, and account for 34.7 per cent by 2017.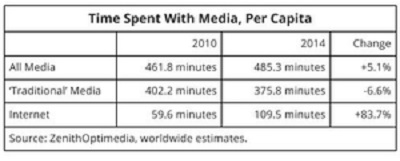 "The average person already spends half their waking life consuming media," said Jonathan Barnard, ZenithOptimedia's head of Forecasting. "But people around the world are clearly hungry for even more opportunities to discover information, enjoy entertainment and communicate with each other … and new technology is supplying these opportunities.
"Technology also enables brands to communicate with and learn from consumers in new ways. We expect media consumption to continue to grow for the foreseeable future, multiplying the opportunities for brands to develop relationships with consumers."
The Middle East and North African populace will be just as voracious in seeking out info or entertainment. ZenithOptimedia forecasts average media consumption to rise from 634.8 to 655.5 minutes per day between 2014 and 2015, owing to a notable 15 per cent growth in internet use.
"This pattern is expected to remain consistent over the next two years, with average media consumption rising steadily to reach 716.4 minutes per day — near half of which will be spent on the internet — by 2017," it predicts. "Furthermore, internet daily consumption is projected to grow by 30 per cent in Saudi Arabia and by 15.8 per cent in the UAE between 2015 and 2017."
The global average for media consumption stood at 485.3 minutes a day as of last year (it was 461.8 minutes in 2010). Again, this was led in the main by more people spending more time on the web — nearly doubling from an average of 59.6 to 109.5 minutes a day.
"Mobile technology in particular has created new opportunities to consume media, by allowing people to access the internet while out and about — shopping, commuting to work, waiting to meet friends, and so on," the report says.
"We forecast that, between 2014 and 2017, the amount of time spent consuming media around the world will increase by an average 1.4 per cent a year, reaching 506 minutes in 2017. Meanwhile, internet consumption will grow by 9.8 per cent a year to reach 144.8 minutes a day. The internet's share of overall media consumption will rise from 12.9 per cent in 2010 and 22.6 per cent in 2014 to 28.6 per cent in 2017."
As TV sees minimal erosion from the rise and rise of digital, global print media is feeling the pinch.
"Between 2010 and 2014 the average time spent reading newspapers fell by 25.6 per cent, while time spent reading magazines fell 19 per cent," the report notes.
"Between 2014 and 2017 we expect newspaper consumption to shrink by an average of 4.7 per cent a year, while magazines and TV shrink at average rates of 4.4 per cent and 1.6 per cent respectively. These figures only refer to time spent with these media in their traditional forms — with printed publications and broadcast programmes watched on television sets. Any time that consumers spend with broadcasters' and publishers' online brand extensions is included in the internet total."