Halloween is becoming a bigger event around the world each year, opening up plenty of opportunities for marketers. New research from Pinterest identifies how pop culture and local culture can influence buying trends in the spookiest time of year.
Halloween is a major moment for Pinners around the world as they like to plan ahead, with searches around Halloween starting as early as May. This year, throwbacks and pop culture references are dominating, with characters from movies and series and '90s references trending on the platform.
The Pinterest 2019 Halloween Report indicates that plus-size Halloween costumes for women (+90%) Halloween wedding dresses (+217%) and ghost tattoos (+1008%) show people are searching for ways to make the most out of Halloween.
This year, TV programmes and films are trending and inspiring costumes and make-up across the globe. Whether it's one of the hottest characters of today or a favourite from a more nostalgic time, Pinterest has you covered. Remakes are a thing in 2019, with classics such as The Powerpuff Girls, Toy Story, Spider-Man and Aladdin rounding out the top searches.
But Halloween is more than just costumes and make-up. Since May, Pinners have been searching for tattoos, games, art, weddings and more – all inspired by the spooky festivity.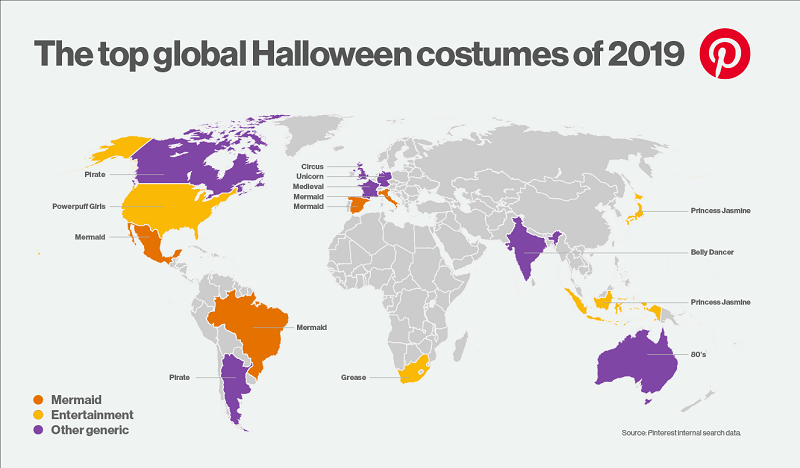 Pinterest has provided data from its 2019 Halloween report to see this year's top trending ideas.
Costumes 
Globally, 'mermaid' is the most universally popular, but there is a still a strong influence by entertainment.
Top costume searches by those identifying as female:
Top costume searches by those identifying as male:
Single costumes
Going to a party alone isn't a terrifying social experience anymore. Here's what to wear when celebrating solo:
Inclusive costumes
Everyone is searching for costumes that they'll love:
BFF and couples' costumes
This year, couples' costumes have overtaken best friends' costumes, with searches for 'Halloween couples' costumes' +367% and 'BFF Halloween costumes' up 250%. Whether you're a couple or BFFs, grab your partner and put on one of these costumes:
Group costumes
Group costumes are a great way to team up and bring an idea to life. This year, characters from TV programmes and the latest Pixar and Disney films are the most popular group costumes:
Make-up 
Make-up will bring your Halloween costume to life. Find endless ideas and Halloween make-up videos (+1,073%) to complete your chilling look.
Trending make-up for TV and film characters to take your costumes to the next level:
Other crazy or scary make-up looks:
Halloween party 
There's nothing wrong with plastic pumpkins and eating candy, but why not step up the Halloween decorations and party ideas? On Pinterest, there's something for every space and occasion. Read below for trending ideas for your best Halloween party.
Decorations
Games and activities
Food and drinks 
Spice up your recipes and prepare appetisers and dishes that are as spooky as they are tasty! On Pinterest, people search for food ideas every day. Here are a few ideas to inspire your Halloween treats:
Top trending Halloween recipes
Other things that people are searching for related to Halloween
As Pinterest is a place to foster your creativity, trending searches don't end where you'd expect. In addition to costumes, make-up and decorations, people are increasingly searching for Halloween-themed wedding ideas and tattoo ideas to further celebrate the occasion!
Weddings
Tattoos
Check out the Pinterest UK board for more ideas here: Pinterest Happy Halloween.