There is a growing 'premium' effect that is boosting the performance of ad campaigns when viewed within a high quality, trusted editorial environment, according to new research.
The study comes from the World Media Group (WMG), a strategic alliance of ten of the world's leading international media brands.
Independent analysis from SaaS analytics and measurement firm, Moat, demonstrates that premium digital inventory (comprising digital inventory across all WMG brands) in 2017* outperforms Moat's benchmarks by between 16% and 73%.
In addition, when looking at the quality of engagement delivered by WMG brands the analysis shows that there has been a significant increase in attention measures since the previous year. In particular, active page dwell time for WMG Display Desktop (average length of time the user was on the page with the window in-focus) has increased by 67% year-on-year and is now 72% higher than the Moat benchmark. Also, Display Desktop in-view time (the length of time an ad has been active and in-view) is up by 34% compared to last year and stands 51% higher than the Moat benchmark.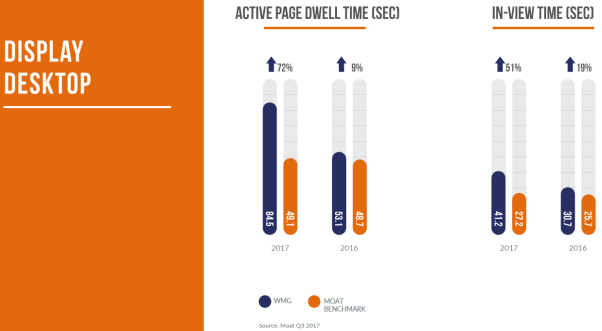 Rupert Turnbull, Vice President, EMEA & LatAm at Time Inc, a member of the WMG, explains, "Ironically, it seems that far from turning consumers away from us, the 'Trump-factor' has had a positive impact across the World Media Group in the past twelve months. The Moat analysis adds to the growing body of evidence that suggests consumers are not only actively searching for quality journalism on trusted sites, but also moving away from bite-sized, click-bait headlines and enjoying the long form content created by quality media brands. This is great news for advertisers who are benefiting from the halo effect of our readers' greater attention levels when viewing our content."
Munira Ibrahim, SVP, Sales & Content Solutions, Reuters, which has just been announced as the newest member of the World Media Group, adds, "At Reuters our passion is for providing well-researched, trusted news, written by world class journalists – and the latest Moat analysis confirms that these are values that are held strongly across the whole of the World Media Group. We are delighted to have joined the World Media Group and are looking forward to working together with the rest of the members to promote quality journalism, delivered around the world through high-spec technology."
The WMG brands comprise Bloomberg Media Group, The Economist, Forbes, Fortune, National Geographic, The New York Times, Reuters, TIME, The Wall Street Journal and The Washington Post. These prestigious titles have received over 1,000 major journalism awards, including at least 190 Pulitzer prizes, between them. In addition, WMG members also provide innovative technology to optimise digital ad delivery and viewability, such as device-agnostic solutions that ensure ads are always viewed at the appropriate size.
The in-depth results from the Moat analysis are as follows: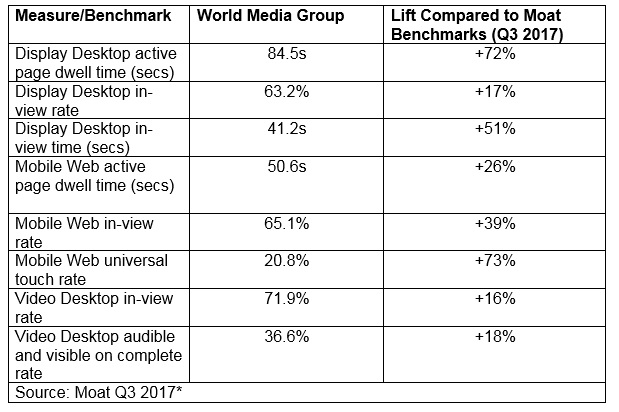 AI-powered price optimisation could supercharge the UK retail market
Following the news earlier this week that consumer spending has fallen at its quickest rate since the 2009 recession, retailers must adopt a much more intelligent, data-driven approach to pricing, to better predict market conditions, and capitalise on customer demand.
Retailers must adapt a much more agile approach to their pricing strategy in order to overcome the profit slumps many have seen this year.
According to the latest figures from credit card company Visa, the bad weather that the UK suffered throughout April has contributed to the fastest decline in retail spending since the 2009 recession. Sales in April dropped by 5.4 per cent compared to April last year, a negative set of results that follow poor performance in March, which saw 2.9 per cent decline. Even the burgeoning online retail sector suffered, with spending down by 0.1 per cent.
Uwe Weiss, CEO of Blue Yonder, argues that the bleak outlook for the UK retail market highlights the need for retailers to adapt a much more intelligent and data-driven approach to their pricing strategy, and to better understand and predict market conditions. In a fundamentally changing market, Uwe suggests that retailers cannot carry on doing things the way they always have, and those that adopt a more agile, responsive and digitally-focused approach will gain a competitive edge and be in a much stronger position to survive the increasingly challenging UK retail market.
"Retailers today operate in an extremely fierce market place, shaped by the unpredictability of consumer behaviour, changing demands, pressure from online competitors and economic factors like Brexit. At the core however, a dramatic softening in consumer demand has taken a heavy toll on retail sales, as consumers have less money in their pockets. Consumers are not only being driven online where they can choose the right products at often cheaper prices, but they are also reducing discretionary spending. Evidently, this presents a significant challenge for traditional brick and mortar retailers.
"Retailers have long recognised the need to innovate in order to address these changes in the market, but they do not always have the structure and processes in place to find, assess and adopt the best solution. Artificial Intelligence (AI) is in the vanguard of innovation, but a lack of understanding of how it can be used best is holding most retailers back. Retailers today have access to vast reams of data, including past sales patterns, customer footfall and external information such as the weather and public holidays. When this data is combined with advanced AI technology, not only are retailers able to better understand and predict consumer demand, but it can also help them to understand and adapt to market conditions in order to make better financial decisions."
Price optimisation solutions powered by AI can accurately predict customer demand and automate pricing decisions for a retailer, across every product category and every store, learning the relationship between price changes and demand while incorporating a retailer's business strategy. It can automatically set the optimal prices to deliver the best bottom line, while rapidly sensing vital demand signals from changing market conditions and data such as sales, promotions, weather and events.
Uwe concluded: "Price optimisation solutions can make sure that retailers are selling their products at the right price, in line with market conditions, to ensure maximum sales, margins and profitability. Retailers who implement intelligent, AI-driven technology can eliminate the burden of manual intervention in processes like pricing and replenishment, enabling them to save money, create leaner operations and devote more resources to improving the customer experience. This in turn can help retailers to provide the very best customer experience and grow consumer brand loyalty. Innovative technology, such as AI, will play a crucial role in the survival of high street retailers and, when used accurately, could give retailers a competitive edge, insulating them against the UK's economic downturn and retaining their customer base."