Media agency MediaCom has unveiled a new campaign with HarperCollins, installing a scented bus shelter on Tottenham Court Rd to promote the launch of the first cookbook from online vegan cooking blogging team BOSH!
According to Nielsen BookScan up to the week ending 21st April 2018, BOSH! is the fastest-selling cookery book of 2018 and the fastest-selling vegan cookery book since records began.
HarperCollins' campaign – which was devised and planned by MediaCom's TED division, and produced in-house – aims to appeal to people at their 'point of hunger' during their commute home. The science-led strategy is a first for HarperCollins and draws on the idea that people experience a biological response when they are presented with the sight and smell of food that they enjoy; the release of the hormone ghrelin triggers a feeling of hunger.
The scented bus shelter campaign will be supported by nationwide OOH across rail networks, and social media content promoted on Facebook and via the bosh.tv website and Instagram channel.
Tom Mills, Business Director at MediaCom TED said: "The BOSH! launch campaign stemmed from a great insight to target our audience's hungriest moments. The challenge was bringing to life the amazing recipes within the book. Collaborating closely with Henry and Ian from BOSH!, our clients at HarperCollins and JC Decaux, we're thrilled to bring the aroma and flavour of their delicious chocolate fudge cake to the streets of London."
Joanna Rose, HarperCollins HQ Marketing Director said: ""With vegan, vegetarian and flexitarian eating so rapidly on the rise, we knew that we needed a standout campaign for a breakout book. Targeting consumers at the 'point of hunger' with mouth-watering digital advertising, and creating an event advert that looks so good you can actually smell it, has perfectly combined the fresh, creative and tempting content of the book with a campaign that will tickle the taste buds (vegan or not) of our target audience."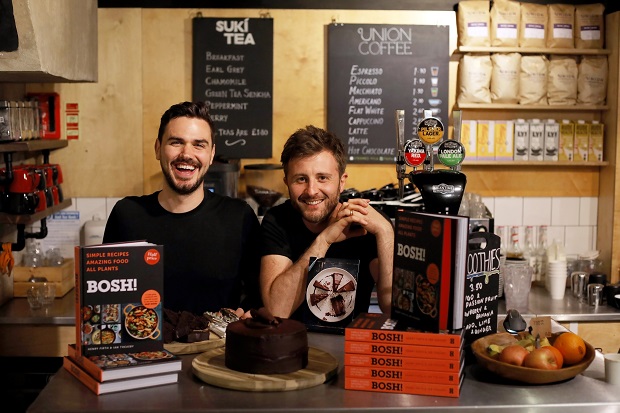 The BOSH! book was launched on the 19th April 2018 at BOSH!'s first festival, BOSH!FEST – the first vegan festival held at Borough Market. With 800 attendees, BOSH!FEST was an evening of vegan food, cookery demos, and great music. The event reached 2 million on social media.