Esports revenue is forecast to exceed $1.65bn by 2021 worldwide, according to new research.
The study, from marketing intelligence firm NewZoo, indicates that the total esports audience is expected to reach 380 million this year.
Media and telecom companies are showing increased interest, with a $45 million per year deal between Twitch and the Overwatch League (OWL).
The group says that the pro-gaming sector will generate $906m; $345m of that will be coming from North America, with a further $164m coming from China.
Of that $906m, $77 per cent will come from brand investments, a figure that will grow from $694m this year to $1.4bn by 2021. By that point, it'll be 84 per cent of esports revenue.
Last year, there were 588 'major esports events' that generated an estimated $59m – that's up from $32m in 2016, almost double.
Meanwhile, esports prize money broke the $100m for the first time, with $112m being handed out at events.
"As a consumer phenomenon, esports continues to grow its huge base of passionate fans across the globe," CEO Peter Warman said.
"As a business, esports is now entering a new and critical phase toward maturity. Big investments have been made, new league structures have been launched, sponsorship budgets have moved from experimental to continuous, and international media rights trade is starting to heat up. At the same time, player salaries have soared and the esports ecosystem and viewership hours still very much rely on a select number of globally operating teams and game franchises. Profitability and return on investment is, for many organisations at the heart of the esports economy, a challenge."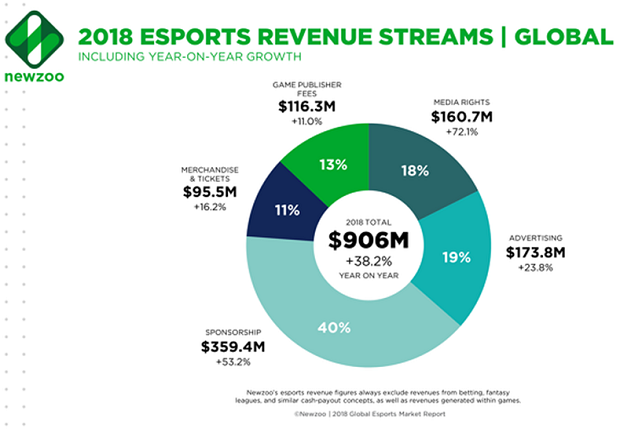 "The quest for engaging content is driving this development. In the future, we will see telecom, media, sports, and entertainment converge increasingly," reads the report. "The fact that Chinese tech giants are seeking to increase their footprint in the West adds to the impact of the current mergers and acquisitions wave. Gaming and esports companies will be at the center of this wave that is only just beginning."
As part of its 2018 Global Esports Market Report, Newzoo has laid out the ten key factors that will determine the pace of growth in the esports industry.
These have been broken down into three categories: the dimensions of growth, the accelerating elements, and the shaping of an industry.
PC gaming franchises are expected to continue to dominate the western esports market, with mobile remaining niche outside of Asia.
However, because of the inherent transience of mobile gaming, live competitions can be organised on a more casual level, such as the growing trend of Clash Royale competitions being held in bars and cafés.
Revolutionary technologies such as cryptocurrency and blockchain will also play a substantial role in the future growth of esports, Newzoo suggests.
"Many startups launching consumer services based on blockchain have their roots in games. Gaming has pioneered digital business models, marketing mechanics, and virtual currencies and economies," the report reads.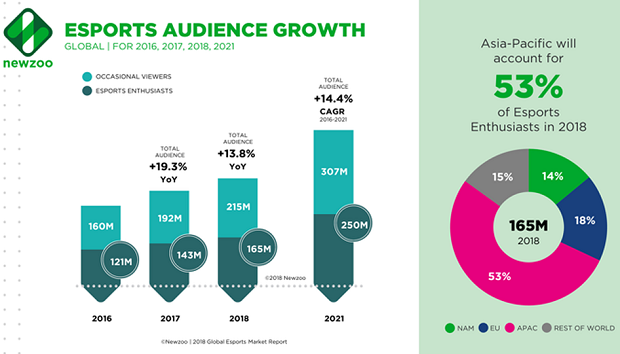 Duncan McMonagle, SVP and GM, eSports, Minute Media said: "Major brands are increasingly viewing eSports as an opportunity to get closer to a traditionally difficult to reach audience and achieve a direct return. The fact is though, most brands are still struggling to get their heads around how to engage such a diverse and global audience. For starters, different games attract entirely different audiences and age-groups, so picking the right tie-up requires an understanding of the market that many brands simply don't have yet.
"And when it comes to engaging eSports fans, brands will have to think beyond traditional live, linear broadcasting and instead find ways to embed themselves into the narrative. In practice that means short-form, mobile content that brings fans closer to the action, lifting the lid on the personalities and the players, what they're wearing, what life is like on tour, the stories behind the story. Brands are going to need partners to help them navigate this often unfamiliar landscape and craft stories that engage this audience."