The amount spent on UK online retail sites on Black Friday 2017 was up +11.7% to £1.39bn, according to data from IMRG. This was ahead of the original forecast of +9% growth for the day.
Of that spend, 39% was completed on a smartphone, with the device taking the highest share of sales against desktop and tablet. While this is not the first time this device has accounted for the highest share, it is unusual given Friday was a standard working day (people tend to use the device of most convenience, and many would have had access to their desktops at work).
This stronger-than-expected performance was achieved in spite of a number of factors that could have exerted a negative influence on growth:
Black Friday was relatively early in 2017 (24 November – it is the fourth Thursday in November, which shifts earlier or later in the month each year), so it occurred before payday for a greater number of people than has been the case over the past few years
Businesses in multiple other sectors now run their own Black Friday campaigns, which could divert spend away from retail; however, this doesn't seem to have caused a particularly significant impact yet, it may be that most people are quite focused on assigning their available income to covering Christmas
Many retailers launch their Black Friday discounting campaigns in advance of the day itself, extending the peak activity over a longer period.
That final factor is the key one. Throughout November, IMRG were tracking 210 retailers as part of this research. In the graph below, the blue line shows the number of those who were actively promoting Black Friday specific discounting campaigns throughout Black Friday week, while the orange line shows the number promoting discounting campaigns that were not explicitly related to Black Friday.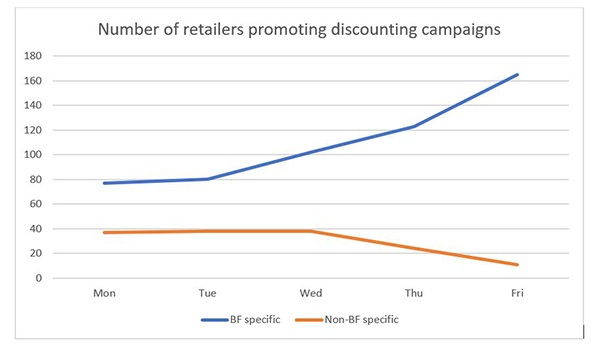 As can be seen – and as might be expected – IMRG found that the number running Black Friday specific campaigns peaked on the Friday at 168. However, at the beginning of the week there were already 77 actively promoting Black Friday campaigns (as well as 37 running their own discount campaigns), with that number increasing sharply on both Wednesday and Thursday. The Wednesday was particularly interesting, marking the day of the week when activity started to really accelerate as many switched on their campaigns – yet this was not reflected in the sales growth for that day, up just +2.8% and by far the lowest rate for any day that week; shoppers appeared to be far less responsive on that day.
Even on Monday 13 November, a full week before Black Friday week began, there were 12 Black Friday-specific and 66 non-specific discounting campaigns live among the 210 retailers tracked.
"Black Friday not so black for UK e-commerce"
Ad tech firm Apica found that 75% of UK e-tailers maintained or improved their website and app performance compared to last year during 2017's Black Friday sales rush. This is compared to just 56% in the US.
In the US, the index found that two thirds of companies failed to load their sites within the 10 second window which research has shown leads to 40% of potential consumers taking their trade elsewhere. In the UK, fewer than 1 in 10 (8%) companies fell foul of this marker.
While the index found that the worst performing UK sites averaged a poor 18.9 second load time on Black Friday, in the US things were twice as bad, with the worst performing American sites averaging 37.9 seconds to fully load.
However, things aren't all bad Stateside…
According to the Apica index, top-performing US sites outshone their UK cousins. The top 10 US sites averaged just 1.3 seconds to load, whereas in the UK that figure was 2.09 seconds.
And the Apica index highlighted some UK site outages, with 5% of sites experiencing load delays of between 2 minutes and 2 hours on Black Friday itself – the top 100 US sites didn't experience any.
We are also offering comment from Apica CEO and noted testing industry figure Carmen Carey, as well as further stats as they become available on Cyber Monday. Please feel free to reach out for any further information you require, or to confirm you'd like to use these results.
Analysis: sales are only the beggining
Perry Krug, principal architect, strategic accounts, Couchbase, said: "Black Friday has broken online records, yet again. According to the IMRG, as much as £1.4bn was spent on online sales in the UK – an 11.7 percent increase on last year's figure. Good news for the retail industry no doubt, but a reminder of the pressures it faces at this time of year."
"Throughout the famed 'golden quarter', the stakes for retailers are far higher than at any other point in the year. They can expect to be under the cosh for the duration of this period, not just on specific dates like they once were, and they need to be better than perfect during this time. If they're not, shoppers who are not short on other options will simply go elsewhere."
"The sales made over the weekend are only the beginning. In the aftermath, consumers are making complaints, returns and reviews – all online. Customer information needs to be recorded and stored; and delivery tracked and assured for every last package. This adds up to trillions of online interactions, a data management task of mammoth proportions."
"This isn't just about keeping the lights on. Even during the busiest shopping period ever, retailers still need to provide truly exceptional shopping experiences to ensure potential customers don't go elsewhere. Good deals are not enough on their own and the shopping experience must meet expectations from start to finish. A great experience is also a retailer's best means of ensuring new customers come back in the new year, having been enticed by Black Friday deals."