Amazon still leads the way as the top advertiser on Google in the USW, but retail sites are making way for travel sites, according to new research.
Searchmetrics has conducted an up-to-date analysis to identify the top 20 most visible brands in US paid and organic desktop search results on Google.com.
This is based on data collected for the first 13 weeks of 2017.

Paid search is changing: fewer retail brands feature and more entertainment and travel sites
• Only 4 of the sites in the top 20 desktop paid search advertisers list were also present in the top 20 in 2012 when Searchmetrics last conducted a similar analysis (they are amazon.com, att.com, google.com and jcpenney.com).
• There are far fewer retail focused sites in the top 20 than in 2012. Then there were 11 retail focused sites included among the top 20 paid search advertisers: amazon.com, zappos.com, bestbuy.com, ebay.com, jcpenney.com, lowes.com, target.com, buycheapr.com, sears.com, homedepot.com and nordstrom.com. In 2017 there are only 5: amazon.com, bestdeals.today.com, jet.com, overstock.com and jcpenney.com.
The retailers that have dropped out (Zappos, Best Buy, eBay, Lowes, Target, Home Depot, Sears and Nordstrom) could be putting their marketing dollars to use elsewhere. Many have mobile apps that rank well for downloads from Apple's App Store and the Google Play store. And with mobile shopping becoming increasingly important, retailers could be significantly shifting their paid advertising spending in that direction.
• Online entertainment/streaming/games sites now make up 5 of the top 20 Google search advertisers (poki.com, att.com, directvnow.com, hulu.com, go.com). Of these, only att.com was in the top 20, in the 2012 analysis.
• Five years ago, there were no travel sites in the top 20 paid search list. Today, there's five: Expedia.com, Kayak.com, Cheapoair.com, TripAdvisor.com and Booking.com.
• Google itself is in tenth place for paid search advertising. It clearly sees the sense in using paid search to attract business customers to its AdSense program and for promoting its web browser, Google Chrome.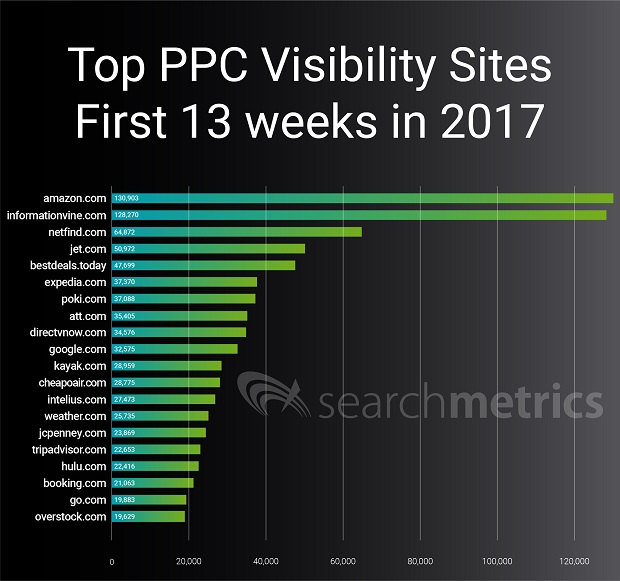 Organic search dominated by content heavy sites: social networks, publishers and dictionary sites
• The list of the top 20 most visible sites in organic search is dominated by content-heavy sites such as social networks, publishers and encyclopedia and dictionary sites.
• Wikipedia comes in at number one with Google.com and YouTube also in the top five.
• Encyclopedia/dictionary sites such as dictionary.com and merriam-webster.com have a natural advantage in organic search because of the sheer amount of ranking keywords on their pages.
• NYTimes.com and HuffingtonPost.com are the only true media publishers making the list.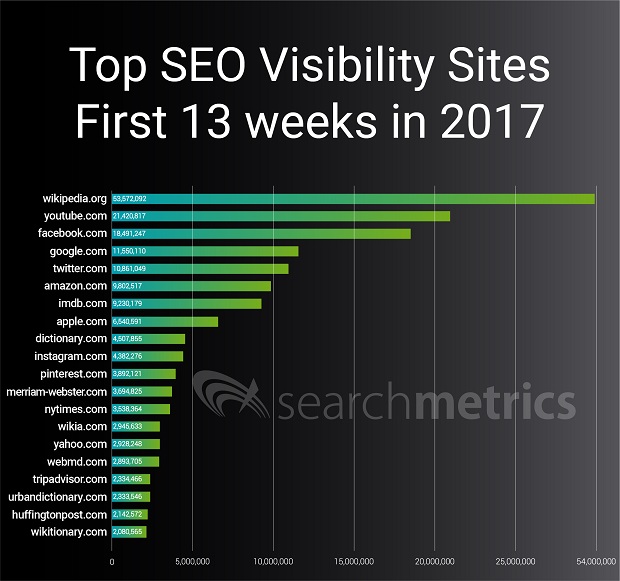 How did Searchmetrics conduct this analysis?
To create the top 20 lists in this study, Searchmetrics has used average Paid and SEO Visibility scores for the relevant domains based on the weekly scores over the course of the first 13 weeks of 2017. Paid and SEO visibility scores are a measure of how frequently and prominently a domain appears in paid and organic search results respectively.
Searchmetrics tracks the paid and organic ranking of millions of keywords on Google.com every week and calculates the Paid Visibility and SEO Visibility scores based on:
• The number of times a domain appears in the search engine results pages (SERPs) across the keyword set
• Its prominence within those SERPs (a higher ranking equates to a higher visibility score)
• The competitiveness of the keyword (higher search volumes equate to a higher visibility score)
While Paid and SEO Visibility can relate to a website's real traffic, it is important to remember that traffic can come from many different places online. Therefore Paid and SEO Visibility is only an indicator of visibility that comes from a website's paid and organic search channels.
You can read a post about this analysis on the Searchmetrics blog here.