Shoppers are open next gen technology , such as smart fitting rooms, touchscreens and VR from high street stores, according to new research.
The "Retail Reality" report from Barclays, indicates that shoppers wanted to witness new technologies in these physical stores.
Of those surveyed, 57% said they were more likely to visit stores that have the latest technologies such as smart fitting rooms or virtual reality. Some of the other technologies that shoppers said they wished to see in a high street store were touchscreen technology (65%), and augmented reality (52%).
The survey also found that shoppers preferred to see technologies related to making payments.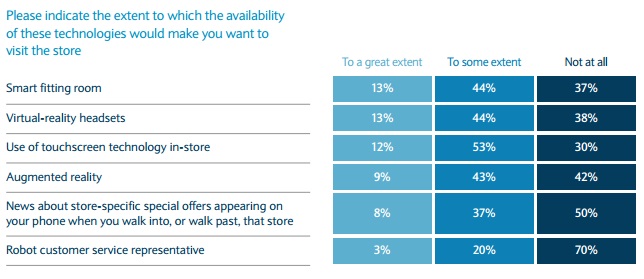 While 48% of them said they would like to see contactless payments in stores, 37% said they looked forward to mobile payments. Both these were described as "life changing" technologies.
With regards to giving feedback to a store, the report said shoppers were now five times more likely to complain using social media such as Twitter and Facebook, than they were three years ago. The respondents also said they expected these complaints to get a quick response. More than one in three (38%) of those surveyed said they expected a response within an hour.
Talking about the Brexit impact, 65% said they wanted the protection of UK retailers and goods to be a priority while making Brexit negotiations.
On the negative side, respondents said they were concerned about the availability of certain categories of goods post Brexit. While 62% felt exotic fruits could become less available, 55% feared for wine, and 42% felt there will be a decline in the availability of luxury goods, post the UK leaving the European Union.
On the positive side, however, there were more respondents who believed Brexit will increase the quality of groceries, than those who felt it would be the other way round. Besides, more respondents felt food labelling would improve post Brexit.
Commenting on the report, Ian Gilmartin, head of Retail & Wholesale at Barclays, said, "The British high street is part of what has made the UK great. Being a 'nation of shopkeepers' is ingrained in our cultural identity and consumer pride in the sector endures. Our research reveals that the public still see the high street as an essential part of the shopping experience and as a national treasure they want to see protected.
"Consumer confidence in the retail sector is continuing despite uncertainty caused by the Brexit vote, and there are opportunities ahead for retailers if they can maximise the opportunity of 'Brand Britain', both at home and abroad."

"Convenience still paramount"
Commenting on the findings, Hugh Fletcher, Digital Business Consultant at Salmon argued why retailers must embrace new technologies such as virtual reality now.
"There is no doubt that digital services have risen in prominence and continue to revolutionise the retailing industry. A report released by Barclays confirms that high-street stores remain a vital component of the omnichannel experience – almost two-thirds (63%) of consumers still prefer to physically see an expensive product before the point of purchase. Importantly, 57% would be more likely to visit a store that installed new technologies such as virtual reality and smart fitting rooms. As consumers crave a more digital approach to their shopping experience, vendors must embrace technology-driven concepts and evolve.
"Connected devices and zero UI platforms (the idea of eliminating the barrier between user and device) such as Google Home and Amazon Echo plainly highlight the shift leaders in the market are undergoing to meet shoppers' traits. Our own Programmatic Commerce research found that 57% of UK shoppers will be ready for automated purchases through IoT devices within 2 years. There are however many challenges to overcome: it's paramount that convenience remains core, but consumers will also demand efficiency and security. Technology can disrupt any sector and embracing the aforementioned technologies sooner rather than later is a must for retailers."