As augmented reality gets more sophisticated, how are businesses are using it, and what does it means for the future. Lance Spellman is the founder and President of Workflow Studios, offers a guide to this fast growing technology.
As humans, we have certain perceptions of our world and how it's supposed to work. When you look in a mirror, you expect to see your own reflection. When you drink a glass of water, you expect that it will quench your thirst.
Technology has the ability to change how we see the world, and how we see ourselves. Virtual reality tools, such as Oculus Rift, are allowing us to experience intense experiences from the comfort of our living room couches. And augmented reality experiences, such as those provided to users on Snapchat, are changing the way we interact.
According to a report released by Digi-Capital in April 2015, the market for Virtual Reality (VR) and Augmented Reality (AR) will reach $150 billion by 2020. The report says that only $30 billion of that will be from VR, meaning the rest of the market will be in AR. It's fair to say that the technology is gaining speed, and we need to be paying attention.
What happens when our reality is augmented, and what does it mean for the future of business?
What is Augmented Reality?
Augmented reality is a live view of a real-world environment with elements that are augmented by a computer. Because of this, someone's perspective on reality is enhanced, improved, or changed.
Virtual reality is talked about often, and that's when a real-world environment is completely replaced by a virtual one. Augmented reality, on the other hand, adds in elements to a real-world perspective to change things around. With augmented reality, virtual information can be overlaid on real-life scenarios. For example, our graphic below shows a version of augmented reality. In it, the mobile device is being held up to see the city and an app is placing icons over of places of note.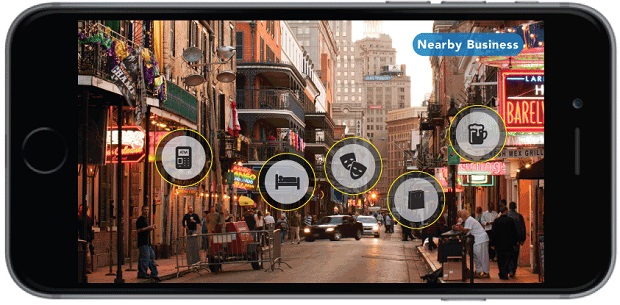 How Businesses Are Using Augmented Reality

Businesses are using augmented reality to provide experiences that were never possible before. Many of these experiences are customized, allowing users to try on products and services to increase the chance of making a purchase.
For example, the beauty industry is jumping into AR in full force. L'Oreal Paris, the makeup company, createdMakeupGenius, a smartphone app which allows users to super-impose different makes up on their face to see which looks suit them best.
But augmented reality is doing more than augmenting images of our faces. It's also being used in the entertainment industry to resurrect famous acts.
ARHT Media has secured the right to make Notorious B.I.G., the late rapper, into a hologram. The media company has its own Augmented Reality Holographic Technology (smARHT) platform that can turn any star into a HumaGram, providing a totally new entertainment experience.
Healthcare is jumping in, too. AR experiences can help students learn basic anatomy. A company calledARnatomy is developing an app to manipulate "a tangible skeletal model of bones affixed with augmented reality (AR) targets."
The Future of Augmented Reality
At the recent Facebook developer conference, F8, Mark Zuckerberg, Founder and CEO of Facebook, talked about the potential for augmented reality glasses.
Lance Ulanoff, a tech reporter for Mashable, wrote that Zuckerberg told the crowd that "eventually, we're going to have normal-looking glasses than can do both virtual and augmented reality."
Zuckerberg went on to explain that augmented reality could allow someone to snap their fingers, pull out a photo, and make it as big as they wanted. Using the AR glasses, these people could then easily show photos to their friends.
Facebook's plan won't happen for some years, but we're beginning to see the seeds of augmented reality in business. Ulanoff imagines that Facebook's AR glasses would allow someone to enter a local restaurant, see discounts, and immediately apply them.
This would not only provide Facebook users with a fantastic experience, but also give businesses the opportunity to share deals.
How You Should Think of Augmented Reality for Your Business
Most small businesses don't have the ability to implement large-scale AR, but businesses large and small should consider how AR might affect their future. From reading up on the trend, to identifying AR when you see it, it's good to be on top of what's going on.
The truth is, we're still far away from the widespread implementation of both AR and VR. Both are in their infancy, but it will be exciting to see how they grow and develop in the coming years.
Lance Spellman is the founder and President of Workflow Studios, an enterprise software development consulting company in Dallas, Texas. They frequently help brands in industries like retail, government, and manufacturing. He has given presentations on topics like Lotus Notes, Java, and various web technologies at technical conferences across the country.