The use of programmatic advertising is changing across europe, with many advertisers opting for a 'hybrid models' but still relying on agencies whilst publishers are developing in-house models, according to new research from the IAB.
The second IAB Europe Attitudes towards Programmatic Advertising survey polled more than 900 advertisers, agencies and publishers from across 29 markets.
It provides clarity on the current status of programmatic adoption and stakeholders' perspectives on its potential for strategic competitive advantage.
With the majority of stakeholders in the digital advertising industry now undertaking some form of programmatic advertising (87% of advertisers, 92% of publishers and 93% of media agencies), it is interesting to note that there is a clear evolution of programmatic strategies across markets of different maturity levels.
Advertisers start out on their programmatic journey with an independent specialist, then move to an agency of DSP and then in mature markets adopt an agency or hybrid model. Similarly, publisher strategies are evolving; they start out with a hybrid model, then lean more heavily on their SSP and finally bring the expertise in-house. For agencies, the in-house agency trading desk remains dominant.
For some, the drivers for developing an in-house programmatic model are clear. Although less advertisers are considering in-house than last year, those that are, are looking to gain more control, increase transparency, integrate across channels and reduce cost. Agencies are increasingly driven by a need for audience insight to deliver more value for their clients and control. Publishers are driven by the ability to better monetise their inventory and efficiency in the sales process.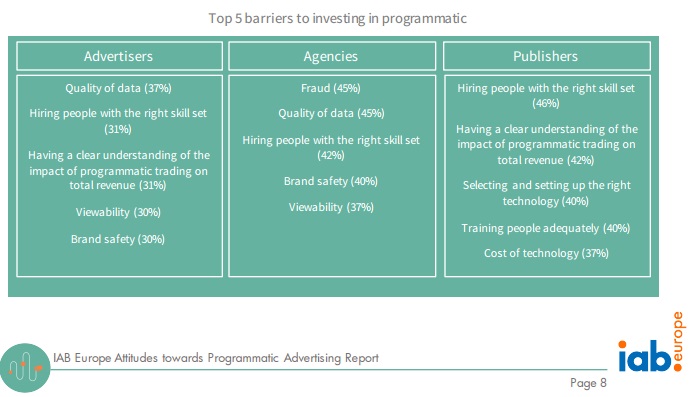 Meanwhile, hiring people with the right skill set and training people adequately is the biggest challenge for developing an in-house model.
Henrik Schulte, Media Strategy Manager EMEA at Schneider Electric said: "Bringing programmatic in-house means full control over what happens with our most valuable good: the data of our customers. Setting up an in-house solution first and foremost requires education on programmatic, in order to get the various functions that need to be involved on board. Once the set-up is complete, it is a great way to foster cross-functional collaboration while providing our customers with personalised advertising."
Why advertisers are choosing #programmatic? Latest @IABEurope report out now https://t.co/L1ynrdD4ZC pic.twitter.com/nF4yIPmBFl

— Henrik Schulte (@Henrik_Schulte) June 21, 2016
The research was initiated and designed by IAB Europe's Programmatic Trading Committee.
The Committee is a multi-stakeholder initiative helping publishers, agencies and advertisers increase their understanding of the programmatic ecosystem and the impact it is having on digital advertising. It is focused on producing educational white papers, thought-leadership webinars and blogs and industry insights.