Almost two thirds (60%) of searches related to Mother's Day will take place on a mobile phone, according to new research.
Bing Ads today releases its Mother's Day insights, revealing motherly love is now mobile, with over half of Mother's Day retail searches set to be made from a mobile device.
Key findings:
• Over 60% of searches are expected to be made on the move via mobile, with search volumes set to increase by five times between 7am-9am on the day itself
• Women take the lead in searching for gifts, making up over two thirds (67%) of all searches
• Searches will increase by up to four times in the 48 hours leading up to Mother's Day
• Sunflowers and peonies are the top petals of choice over the Mother's Day period
Based on data from last year, Bing Ads expects Brits to leave gift buying to the last minute, with searches anticipated to increase by up to 4 fold in the last 48 hours before the day itself.
The annual insights report from Bing Ads reveals that women take the lead on Mother's Day, accounting for two thirds (67%) of total searches, and that one third (32%) of these searches will be performed by Generation X (35-49 year olds) across the Bing Network.
But activity doesn't stop when Mother's Day begins, as mobile will gain the most 'momentum' in the early hours of Mother's Day itself, with search volumes expected to increase by five times between 7am-9am.
Minal Fofaria, head of EMEA Insights at Bing Ads, comments: "Although consumers might leave it late when it comes to Mother's Day, we know brands need to take the lead and plan ahead. Our insights into Mother's Day online search behaviour highlights the opportunity for marketers in harnessing the power of search data to help inform wider campaigns to make the most of key calendar moments. By understanding when and what people are searching, we can empower marketers to make meaningful connections with consumers by providing the relevant information, on the right platform, at the right time."
Despite leaving it late love is in full bloom around Mother's Day, with flowers and chocolates the most searched for gifts. Brightly coloured flowers are expected to catch the eye of UK shoppers as they look to pick the perfect bunch, with sunflowers and peonies found to be the petals of choice.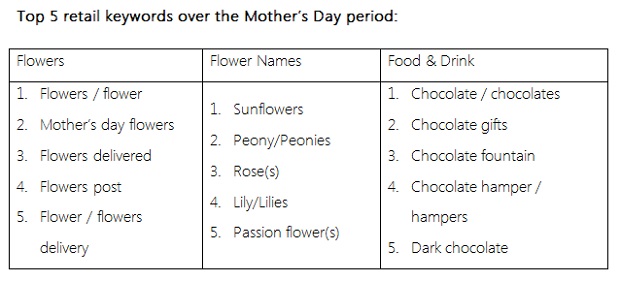 Top tips for marketers to give campaigns a mother's touch:
1. Marketers should ensure there is enough motherly love in their budget to support campaigns right through to the day itself to take advantage of shoppers last minute gift searches
2. With query volumes increasing three times the week before and four times the two days prior to Mother's Day, search marketers need to consider up-weighting spend and bids to reflect this surge in searches
3. As shoppers shift devices in the 48 hours ahead of Mother's Day, marketers should look to up-weight their campaigns across these different platforms to reflect these platform preferences
4. Visit Bing Ad's full set of Mother's Day insights on Bing Ads Docs.com or Bing Ads on SlideShare, to help prepare your search strategy even further, ahead of the big day.