Microsoft has confirmed the launch date of Windows 10 aiming to unify its operating sytem, while bringing back the Start menu alongside new facial and fingerprint recognition technologies for easy sign in.
Consumers will have one year from the 29 July launch date to take advantage of a free upgrade.
From this week, Windows users will have been greeted with a "Get Windows 10" icon appearing in their taskbar enabling them to reserve a free upgrade to the new operating system, when it comes out next month.
Once a Windows device is upgraded to Windows 10, Microsoft has pledged to support it for the "lifetime of the device" at no cost.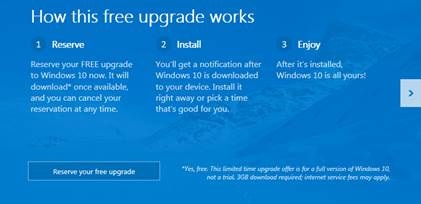 Microsoft turned to its virtual assistant Cortana to announce the release date of Windows 10.
"Windows 10 will be available on July 29, but you can reserve a copy now. Can't wait to be on your PC," Cortana says in a message on Soundcloud.
Microsoft operating systems chief Terry Myerson laid out the case for why Windows 10 will spark a "new generation of Windows."
"With Windows 10, we start delivering on our vision of more personal computing, defined by trust in how we protect and respect your personal information, mobility of the experience across your devices, and natural interactions with your Windows devices, including speech, touch, ink, and holograms," Myerson wrote. "We designed Windows 10 to run our broadest device family ever, including Windows PCs, Windows tablets, Windows phones, Windows for the Internet of Things, Microsoft Surface Hub, Xbox One and Microsoft HoloLens—all working together to empower you to do great things."