Facebook is testing Reddit-style feature called "downvote" that lets users register a negative reaction to comments on the social networking, but it's not quite the long-anticipated 'dislike' button that many have hoped for.
However, it is not the "dislike" button users have long desired. The Reddit-style 'downvote' button aims to improve the quality of discourse on the platform.
Clicking the "downvote" button hides the comment for the user who taps it, then asks the user to say whether the comment was "offensive", "misleading", or "off topic".
Facebook confirmed the test in February this year.
"Now, it appears the feature is rolling out to a greater number of users.
In doing so, the feature should be able to make conversations on the platform less centred around those comments that generate the most engagement – whether good or bad.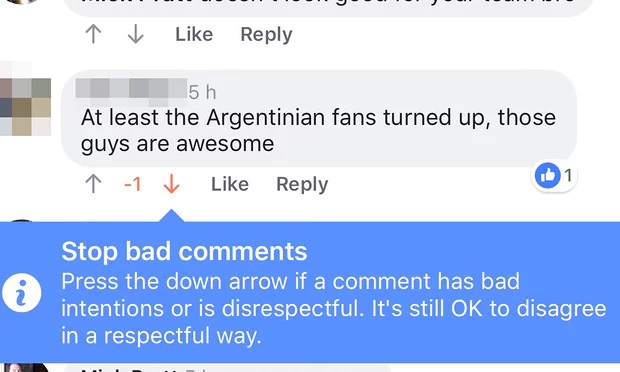 Facebook has been struggling with how exactly to integrate a dislike button since at least 2015, when Mark Zuckerberg noted that "not every moment is a good moment". He also noted that any feature would have to be carefully designed to avoid spreading negativity or to be used for bullying.
To solve that, Facebook introduced its Reactions – allowing people to not only "like" something, but also to offer a range of other reactions, such as anger or laughter. But doing so introduced yet another problem: reacting angrily still counted as a reaction, and so content that made people upset was still being engaged with and promoted on the site.