Under half of influencers are asked for follower numbers by partner brands, and even less are asked about their audience demographics, according to new research.
The study, from new influencer marketing technology firm ZINE, researched nearly 1,000 influencers and more than 1,300 consumers on social media, to define how influencers work with brands, and how consumers perceive posts that are sponsored by brands.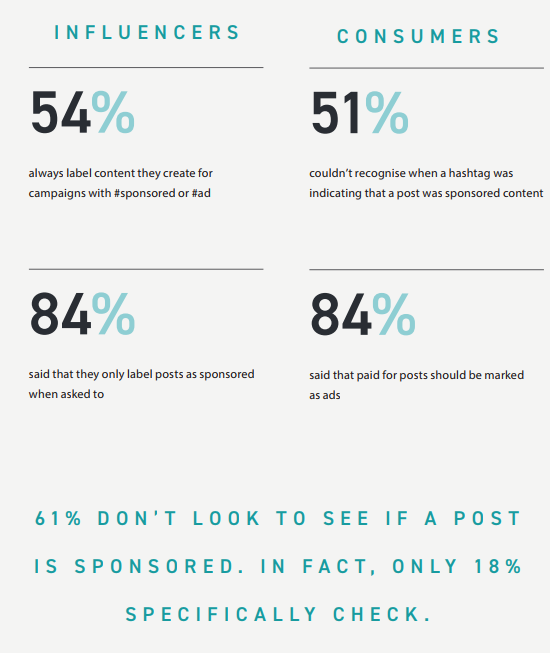 Key findings from the research include:
● Influencer follower numbers are a brand's first concern, but consumers are more interested in trust, connection and specialist knowledge.
o 41% of influencers say brands ask them for follower numbers when researching whether to work with them. But only 29% of influencers are asked about their audience demographics. Just 11% of influencers who are paid to post a blog for a brand are asked for their analytics to prove the value of the post.
o Only 25% of consumers are likely or very likely to buy a product when someone with more than 1 million followers recommends it. 50% of consumers are likely or very likely to buy on the
recommendation of someone who specialises in that area. 78% are likely or very likely to buy when recommended by someone they feel they know and trust.
● Just 25% of influencers said that brands shared their goals for the campaign with them.
o 16% said brands wanted impressions as a result of the campaign
o 16% said brands wanted sales as a result of the campaign.
o 13% said brands wanted an increase in followers
o 11% said brands wanted click-throughs
o 11% said that they wanted to see web traffic
o Just 8% said brands wanted social shares.
● Influencers are driven by working with the right brand to fit their values, over money.
o 73% of Influencers put more effort in when they're passionate about the brand or product. And almost half (47%) of influencers would reject a collaboration if the brand does not resonate with their personal brand and/or audience which contributes to the authenticity of campaigns.
● Brands should expect to pay influencers; rewarding them with 'exposure' is not enough. 83% of influencers need some form of reward for their work with a brand (including free event attendance), whether that is in the form of product or financial payment. Just 17% of influencers would promote a brand in return for exposure (and these are more likely to those who are newer to the game, and looking to grow their follower numbers).
● 84% of influencers want loose or no guidance from brands when creating content for their channels. They know their audience and what works for them, and want to retain their authentic voice with followers.
● There is still confusion over marking a post as sponsored.
o While 52% of influencers always label content they create for brand campaigns with #sponsored or #ad, 41% said they only did so when the brand or agency asked them to, and 7% said they didn't use the tags at all.
● Consumers don't care if a post is sponsored. 31% don't look to see if a post is sponsored (only 18% actively look to see if it is). 30% said they didn't care if a post was paid content or not.
● Of all the consumers surveyed, it was the 25-34 year-olds who were the most likely to deliberately look to see if a brand had paid for content (more than 25% of them checked).
Source: https://www.zineme.com/