East London's 'Silicon Roundabout' is home to a greater density of technology firms than any other location in the UK, from Manchester to Glasgow – and hosts 70 times the density of tech firms in Cambridge's world-renowned hub, according to new research.
In the inaugural London Hubs Tracker from Stirling Ackroyd, a study of every single registered business in the country reveals the domination of the UK's technology industry by this small corner of London.
Key findings below
• Representing almost a fifth of the UK tech roster, inner London is home to 39,614 tech businesses as a whole
• Tech firms around London's 'Silicon Roundabout' are clustered 8 times more densely than Manchester rival, 16x the top Birmingham hub, 17x Brighton's 'Silicon Pier', and over 70x Cambridge's famous 'Silicon Fen'
• Secondary central hotspots in Soho and Southwark add to London's allure as Britain's number one startup city
• Even within London, the heart of the tech district in EC1V is packed 56 times denser than the rest of the capital
• However entrepreneurs can still buy a home near the iconic roundabout for 9% less than the inner London average
London's EC1V postal district, adjoining the famous 'Silicon' Roundabout, is home to nearly eight times (7.83x) the density of registered technology companies than Manchester's 'Silicon Mill', the densest postal district for technology companies outside of London.
Compared to other hubs across the country, the capital's core EC1V tech district is 16 times more densely packed than Birmingham's B3 (the 'Silicon Canal'), 17 times Brighton's BN3 district ('Silicon Pier'), 20 times Bristol's BS1 ('Silicon Gorge') and 33 times the concentration of tech business in Glasgow's 'Silicon Glen' in the G2 area.
Moreover, the reality of London's tech quarter beats the traditional reputation of the world-renowned 'Silicon Fen' in Cambridge 73 times over. This is despite the university city receiving significant media attention in the past. Historically, Cambridge was first cited as the dominant hub of the
In absolute terms, there are 39,614 technology businesses registered to Inner London postcodes (comprising N, E, SE, SW, W, NW, WC & EC districts), while East Central (EC) London alone is home to 6,792.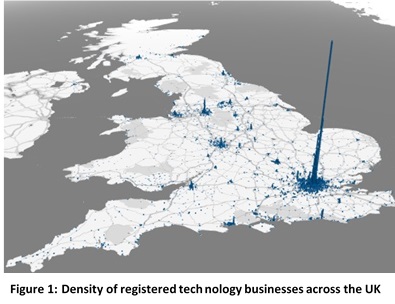 London's hottest tech postcodes
Across the capital there are 58 tech firms for every square kilometre, or nearly fifty times the density of technology businesses than across the whole UK (just 1.2 tech firms per km2).
However at the very peak, Silicon Roundabout's EC1V postal district, this density is more than fifty times denser again, with 3,228 tech firms packed into every square kilometre.
This is more than twice even the second-placed area, the neighbouring EC2A on the other side of the Old Street roundabout. Here tech firms are clustered at a density of 1,580 per km2.
After Silicon Roundabout in the East, W1 postcodes form a secondary 'western' cluster. Stretching from Marylebone High Street (W1U), Portland Place and Regent Street (W1B), to Charlotte Street and Goodge Street (W1T) and western Soho (W1F), this more disperse cluster has a peak density of 1,214 tech businesses per square kilometre (or 62% less than Silicon Roundabout).
Beyond these clusters, London's more periphery tech hubs are led by the N12 district of North Finchley, with 208 tech firms per km2, just ahead of Southwark's SE1 district with 201 technology businesses per km2.
Meanwhile the E14 district centred on Canary Wharf and the Isle of Dogs has technology companies clustered at a density of 190 per km2, while perhaps surprisingly the next distinct cluster is centred on Watford's WD17 district with 168 per km2. Finally, the relatively leafy Wimbledon, Hammersmith and Hounslow form a further set of emerging tech centres in London's suburbs, though with a density of only around 1/30th of the Silicon Roundabout.
Andrew Bridges, managing director of Stirling Ackroyd, comments, "At the bright heart of Britain's technology industry, there's an entrepreneurial startup spirit to the Old Street area that's creating its own gravitational force. Social media is the Bloomberg of the 21st century, HTML is our new lingua franca, and Shoreditch is fast becoming the Canary Wharf of the 2020s.
"Creativity and community matter – and East London has both in spades. A new tribe of Londoners have made their home in the East, and this kind of movement develops its own momentum.
"This is especially true for tech companies. They tend to depend on a small number of highly skilled individuals. They rarely need enormous offices. But they absolutely depend on the warp-speed exchange of ideas. You might think a cutting edge tech start up would depend more on remote working – but the model for these disruptive businesses relies on a small number of talented individuals working and living near likeminded people."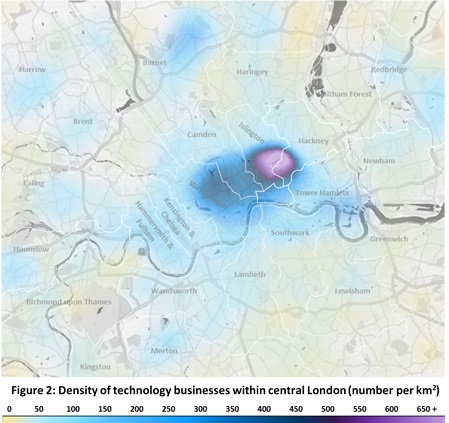 East London's creative industries also rival West End
Alongside technology-focused activity, the Old Street area also rivals West London hubs for the creative industries. Comprising activities such as advertising, public relations, architecture, design, publishing and the media, such firms can be found in the EC1V area at a density of 1,857 businesses per km2. This is third place in the entire UK – and practically level with the more familiar hotspot of Soho's W1F district, where creative firms are clustered at a density of 1,858 for every square kilometre.
Meanwhile, the number one hotspot for creative industries in the United Kingdom is W1T in the West End, including the famous advertising hotspot of Goodge Street and Charlotte Street, where there are currently 2,800 such creative businesses per square kilometre.
Outside the capital, Manchester leads the creative industries, with the central M2 district home to 227 such firms per km2, ahead of Birmingham's B3 area with 223 creative companies per km2 and more than three times Glasgow's G2 at just 66 per km2.
Relative affordability key to the success of tech & creative hubs
In the residential property market, the areas with the greatest density of technology companies remain comparatively affordable, despite the overriding 'London premium', for buyers and tenants in the capital.
Looking across inner London, properties in the wealthy West Central (WC) area still command far higher prices than their East End equivalents. An average residential price-tag of £846,000 for a WC postcode stands 20% higher than the equivalent in East Central (EC) postcodes.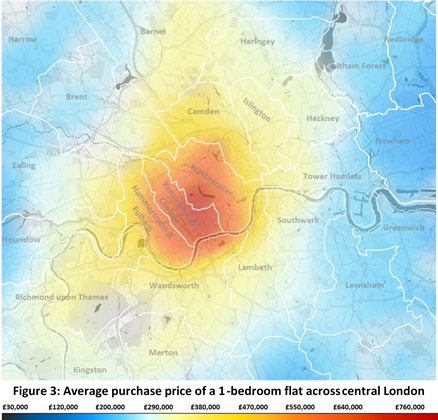 Even more locally, the Old Street and Shoreditch areas are much more affordable than even their closest neighbours. As of Q2 2015, property prices average £703,000 across the 'EC' area, including the City of London. But around the Silicon Roundabout, prices in Q2 started from a considerably more modest £508,000.
Only marginally further afield, purchase prices for a one-bed flat in 'E' postcodes of the wider East London area (comprising areas such as Hackney, Dalston, Clapton and Stratford) average just £373,000.
Turning to the rental market, prices in different parts of central London are more similar. The average rent per month across all property types in West Central (WC) districts is £3,141 per calendar month, or just 0.4% more than an average of £3,130 for a home in East Central (EC) London. Yet further out the contrast is starker. London's 'W' postcodes are even pricier with average rents of £4,114, while rents across the East End's 'E' postcodes average £1,816 per month.
Turning to the EC1V hotspot specifically, renting a one bed flat costs an average of £2,328 per month, and a two bed flat an average of £2,934 – while renting a one bed flat around the next-ranked tech hotspot in W1 requires an average rent of £4,035 per month. A two-bed flat in W1 commands an average rent of £5,172 per month.
Andrew Bridges, managing director of Stirling Ackroyd, concludes: "A distance of five miles between peak property prices in one part of London and the heart of innovation further east is no accident. Nimble start-ups and a young, innovative population both flourish best in a dense but comparatively affordable environment.
"Property prices in the East and West are still radically different. But as a wave of activity travels through the East End, rents are catching up much faster than purchase prices – which is providing real opportunities for landlords.
"Start-ups are shifting the sands of London property as their employees start to trace a different tube line home. And in even greater numbers, a bigger pool of tenants are attracted by the wider appeal of these new cultural hubs in eastern London. That younger, creative population then feeds the flames again."
Source: http://www.stirlingackroyd.com/