L'Oreal became the top-selling beauty brand on Tmall this year, beating out peers Estee Lauder and SK-II to become one of just fifteen brands to crack one billion RMB in sales on Singles Day.
Here's how they did it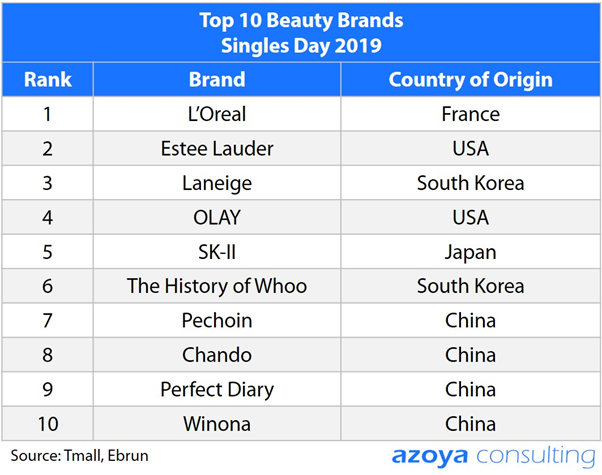 Let's take a look at how L'Oreal won over customers over this year.
Livestreaming Generated Demand & Excitement
Livestreaming played a big role in driving sales on Singles Day, as Alibaba encouraged top brands to use it to showcase their products. Livestreaming channels were given better locations on the Taobao and Tmall apps this year.
During a typical livestreaming session, an influencer tries on an array of different products, and comments on their look and feel to give a sense of what the products are like in real life. This is especially useful for more visual products such as apparel and beauty items and helps activate sales for customers who are on the fence.
In a traditional offline retail setting, each salesperson can only handle a handful of customers at the same time. He/she physically cannot take care of the needs of every customer without sacrificing on service. But livestreaming makes the traditional beauty counter accessible to millions of customers.
In fact, one of China's top beauty influencers, Austin Li, started his career as a beauty assistant for L'Oreal in an offline retail store, giving him street cred amongst a predominantly female customer base.
How did livestreaming turn out for L'Oreal? The company opened its Tmall/Taobao livestreaming channel during the Singles Day pre-sale period, keeping it open for 17 hours a day. Over a period of 392 livestreaming hours, L'Oreal served over 10.34 million orders, a new record. On average, over 300,000 people watched each livestreaming session.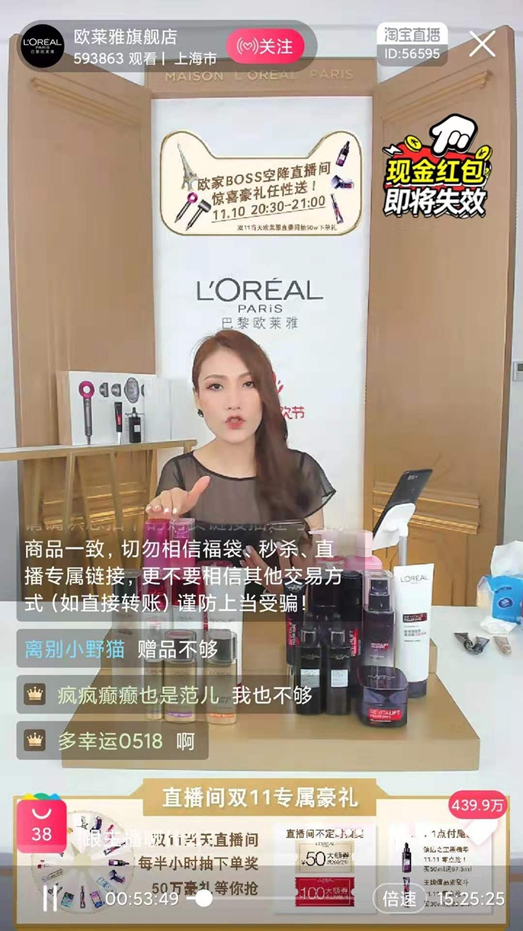 An influencer on L'Oreal's livestreaming channel. Source: Taobao Mobile App
In addition to Tmall, L'Oreal also expanded its presence by working with influencers on other social media platforms: Weibo, WeChat, Little Red Book, and also short-video platforms Tik Tok and Kuaishou.
Many of these influencers began firing off posts and short videos about Singles Day at the beginning of October, over a month before Singles Day itself. This indicates how important the incubation period was in getting customers excited for the big day.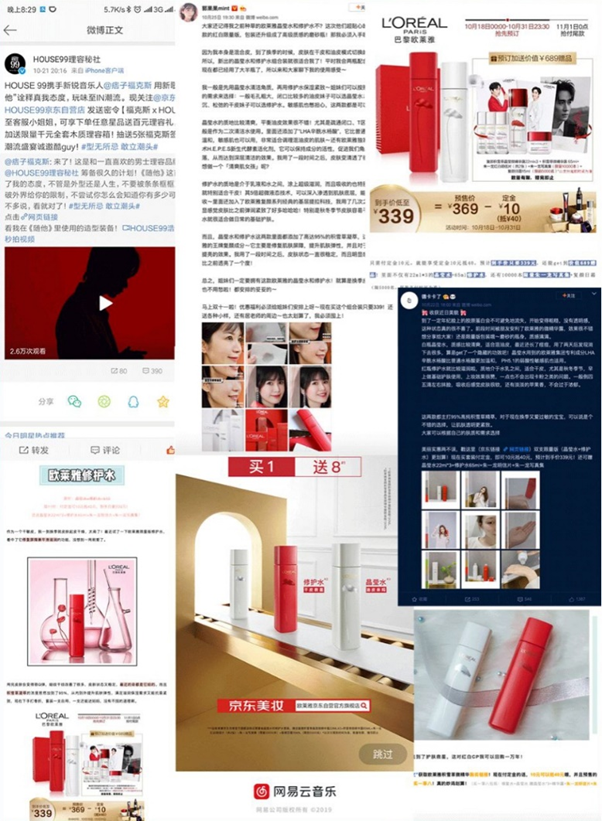 L'Oreal Paris social media content & ads. Much of the advertising centered on its RevitaLift anti-aging skincare line
L'Oreal's Omnichannel Pop-Up Store
L'Oreal also turned to offline channels to supplement its online marketing efforts. First, L'Oreal lit up Paris's famed Arc de Triomphe to kick off Singles Day promotions, posting a video on its Tmall and official website stores.
L'Oreal also hosted a big pop-up store in Hangzhou's In Time shopping mall from November 1-11. The pop-up store was modeled after the French concept of a maison house and consisted of five rooms to simulate the product development process: a fulfillment room, R&D room, laboratory, quality inspection room, and gift-wrapping room.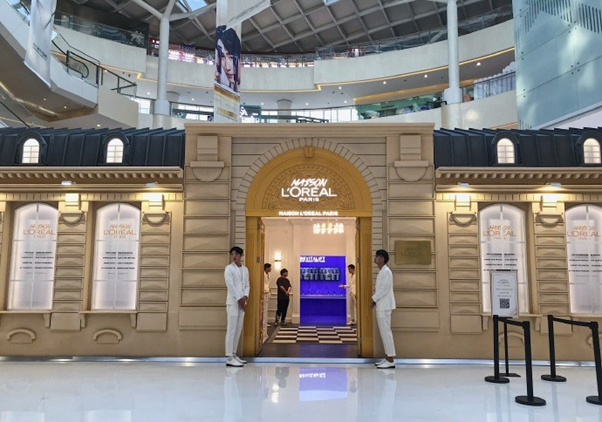 L'Oreal invited influencers such as Gogoboi to show up at different times of the pre-sale period.  Influencers help draw attention during the pre-heat period and get customers excited for the big day. Combining influencer marketing with offline pop-up stores also expands reach, as customers are likely to share their experiences online.
The pop-up store encouraged customers to scan a QR code so that they could follow the brand's WeChat Official Account for more details on promotions and content. The official account lets brands push messages and content to followers over the long term, giving brands the opportunity to build a stronger connection with their customers.
Key Takeaways
L'Oreal was the top-selling beauty brand on Singles Day 2019 and became one of just fifteen brands to generate over one billion RMB in sales.
L'Oreal worked with livestreaming influencers such as Austin Li to create demand during the period leading up to Singles Day. Its livestreaming channel was open for 392 hours during this period.
L'Oreal transmitted a video of a lit-up Arc de Triomphe to commemorate Singles Day, and also launched a pop-up store in Hangzhou to simulate French heritage and educate customers about the product development process.