Snapchat has launched a new tool for advertisers called 'reach and frequency', letting them buy most of the platform's ad formats programmatically, including its popular augmented reality (AR) lenses.
The self-serve Ads Manager already included three formats — Snap Ads, Story Ads, Filters — to a programmatic, ROI-focused model.
Under the new scheme, AR Lenses are available in Snapchat's self-serve tool. They're purchased with our Reach and Frequency tool, which allows marketers to plan and buy in advance on Snapchat.
The main benefits include predictable ad delivery, as well as greater control over frequency. One of our test partners in the US has seen a 46% reduction in CPM since moving buying to self-serve.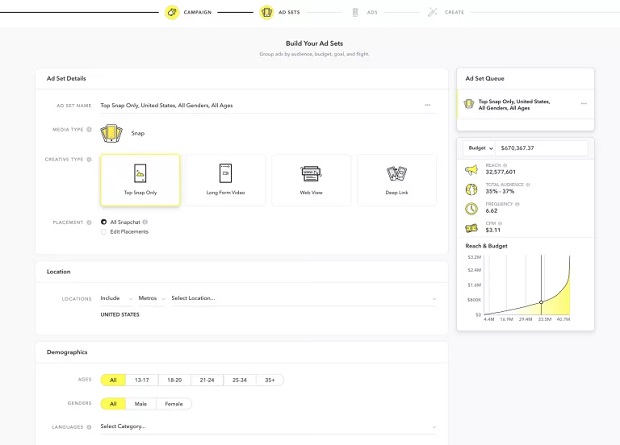 Lenses in self-serve R&F are sold on a fixed CPM making the buy different to traditional auction buy. We offer full funnel measurement: engagement metrics available in real-time, pixel-based conversion attribution, mobile app install measurement, and full offline sales measurement.
This update builds on our recent AR ad innovations: "Shoppable AR" ads can drive e-commerce and app installs with AR, new video Snap Ads that unlock AR, and Lens Studio lets creators with basic design skills make AR for Snapchat in minutes.
Brands like Specsavers, Adidas, Match.com and more have been among those testing Snap's various lens formats during the past 12 months. This now includes an actionable 'shoppable AR' offering, where users can buy products without leaving the app, although this type of buy isn't available on its self-serve platform yet.
In the UK Unilever, Google and Microsoft were involved in the beta-testing stage, trialling a product that brings Snap in line with Google and Facebook in terms of its auction process.