Global consumer spend via app stores is expected to grow 30% to $81.7B in 2018 and climb to $156.5B by 2022, with China leading the way and the UK falling behind.
The report reveals the ways in which different markets are winning or losing the battle of the apps.
For example, the UK will see approximately $2.7B in consumer spend through the app stores in 2022, likely placing it within the top 10 countries by 2022. However, it's Germany neighbours winning the battle, expected to usurp us by 2022, climbing from 7th place to 5th place.
• So, what is it about German app users that are driving the market forward?
• What is there that the UK needs to take note of?
Key findings
• App Annie forecasts global consumer spend on mobile apps to reach $81.7B in 2018 and $156.5B in 2022
• First time downloads are forecast to hit 205.4B in 2018 and 258.2B in 2022, globally
• The top 5 markets in 2022 by spend are forecast to be: China, US, Japan, South Korea, Germany
• The top 5 global markets in 2022 by downloads are forecast to be: China, India, US, Brazil, Russia
• Average spend per consumer reached $20.94 in 2017 and is forecast to rise to $25.65 in 2022.
• This is driven by the combination of spend by consumers in mature markets growing quickly while the install base of mobile devices expands 56% to reach 6.1B, bringing 2B more mobile devices into the global install base, primarily from emerging markets with lower purchasing power.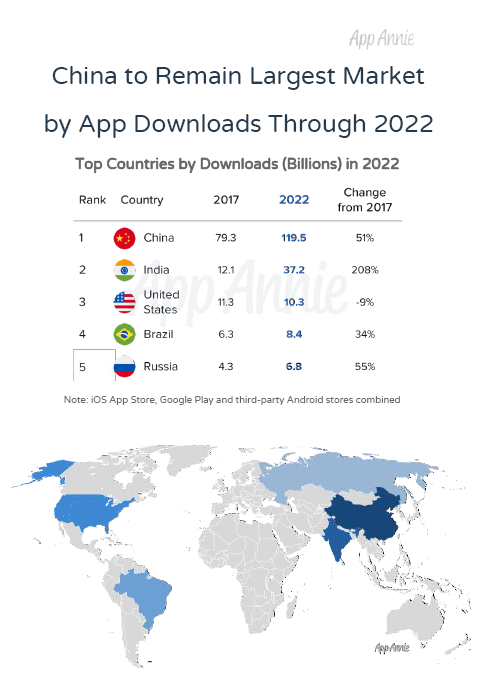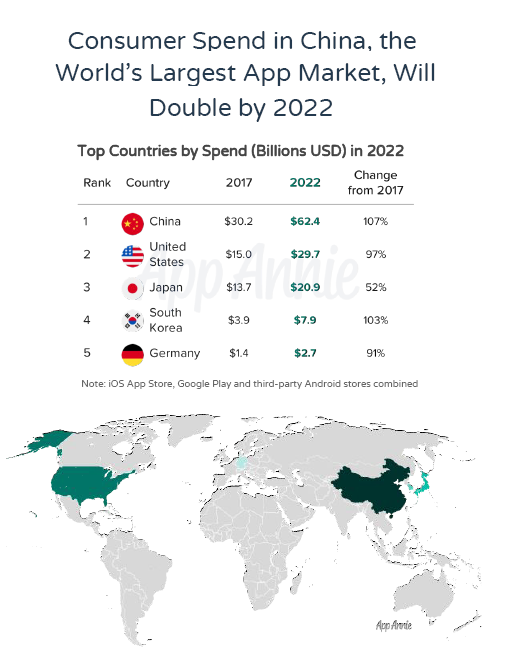 Source: https://www.appannie.com/en/