Japanese messaging app Line has launched new AR gaming features to its messaging app and a range of new emoji as it looks to boost engagement.
First one is "Face Play" – a game that uses facial expressions and movements during in-chat video calls.
There are currently two types of this game available –"BT21 Says" (co-created by the popular band BTS) and "Monster Pop" (where players open their mouths to fire beams and level up by defeating monsters), with plans to continue to add more types in the future. Both of them require players to match facial expressions displayed on screen.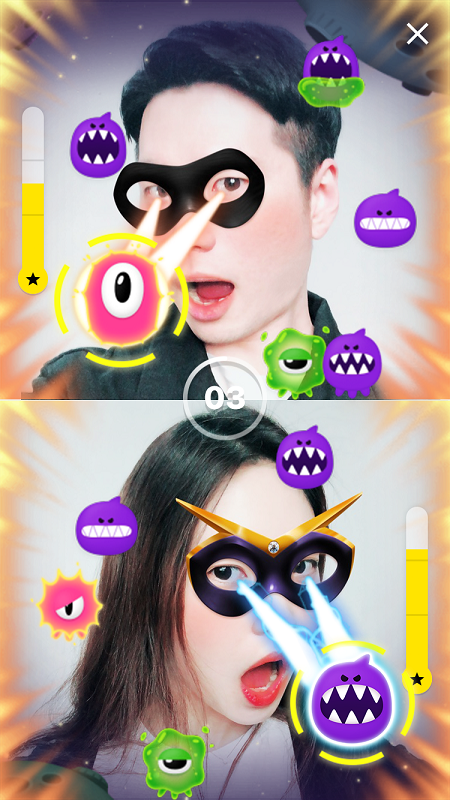 The second feature is the new set of emoji, containing various characters that can be used in chats over the messaging app. There are over 200 designs in total spanning five series launch as first batch. Those include characters such as Mickey Mouse, Hello Kitty, Usamaru and various LINE characters
Since the launch of the service in June 2011, LINE has provided a variety of features to enrich communication among its users. Some of these features include: "Chat" which provides real-time chatting one-on-one or in groups; "Stickers" to express emotions with a tap of a finger; and "Free Voice / Video Call" to make calls free of charge.
The launch version of the app also offered "emoji" depicting faces, symbols, buildings, and animals. That variety has grown to more than 1,000 designs over time. Further, with the rise of smartphones and social media platforms, and the new norm of users exchanging text-based messages with various people, using emoji to express emotion has become common not only in Japan but also overseas, so much so that the Japanese word "emoji" is now a universal term. Then in July 2017, LINE launched "emoji letters" – colourfully designed hiragana, katakana, alphabets, and symbols – which, when used in combination with regular text, enabled users to send even more expressive messages that show their personality.
The line-up at launch, totalling 200 emoji, features five series including: Brown, Choco and other LINE characters, Disney(Mickey Mouse, Hello Kitty, Usamaru, and others. The emoji depicting a wide variety of characters are likely to add fun and excitement to any chat. LINE has plans to expand the character roster over time to include Snoopy, Doraemon, Rilakkuma, Rascal the Raccoon, and more, as part of its efforts to build a service that enables users to enjoy chatting freely in their own, unique way.
Detailed survey results on communicating using emoji
Prior to the publication of this press release, an online survey regarding communicating using emoji on LINE was conducted.
According to the survey results, 90% of respondents had used emoji on LINE over the past year, and around 80% had used emoji letters over the past month.
Further, when asked how they use emoji, respondents answered that they use emoji as stickers, replace proper nouns with emoji within a text message, use multiple emoji to create artwork, and more, illustrating the diverse ways in which emoji are used.