Facebook lost ground to Google in January as users spent more time on YouTube and other Alphabet properties, according to a report.
Brian Wieser, a Pivotal Research analyst who reviewed Nielsen digital consumption data, says Google properties, including YouTube and Waze, combined to account for 27.4% of all time spent on digital media, up 3 percentage points from the previous year.
By contrast, Facebook's share of time spent fell about 2 points to 16.3 percent over the same period.
If the trend continues, investors could take it as a sign that users are losing interest in Facebook.
CEO Mark Zuckerberg said in Senate testimony on Tuesday that Facebook has not seen a dramatic decrease in use following reports that private data on millions of users was scooped up by the political consulting firm Cambridge Analytica. The resulting furor sparked a "#deleteFacebook" movement and forced Zuckerberg to testify to Congress.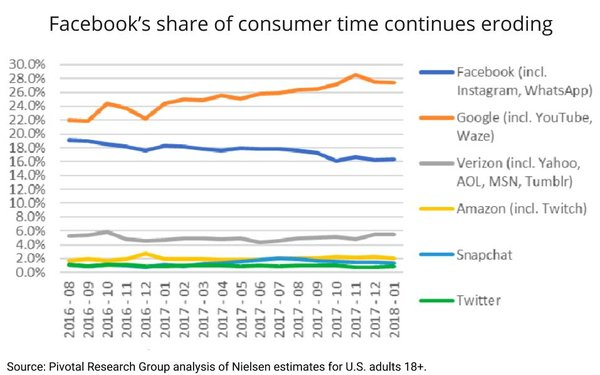 Facebook has been in the spotlight for many different cases over the past few months. Fake news, privacy issues, algorithm changes that affect organic reach and a growing advertising model that is currently under question.
Mark Zuckerberg has already informed us earlier this year that there is an expected decline of 5% in the time spent on Facebook.
This comes after the latest algorithm change that focuses on meaningful interactions to favour the users' wellbeing when accessing the platform.
Meanwhile, Facebook also saw the slowest quarter-over-quarter percentage of the daily user growth. There was also a reduction of US users from 185 to 184 million daily active users, a market that cannot be ignored in the advertising pie.
Not everything is grim for the social platform though, as the last quarter of 2017 brought an increase in the advertising revenue by 48% YoY to $12.8bn.