Snapchat has launched a major update to its location targeting ad targeting, letting brands target Snap Ads and Filters around a specific location, such as a retail store, university, restaurant, airport, or concert.
Radius Targeting is available through Snapchat Ad Manager globally. Coming soon to the UK (launching today in the US) are Location Categories. Location categories let advertisers reach audiences based on the type of location they're in. This will be available in the coming months.
Advertisers can set the the radius from .63 miles/1km to 62 miles / 100 km.
Hopper in the US used Radius Targeting around airports to reach those likely to fly from a hub with a location-specific flight deal.
Qasim Mian, User Acquisition Manager Hopper: "Snapchat radius targeting has allowed us to reach the most relevant audience with the most relevant deal. This is a perfect match of targeting and creative that cut our CPIs in half, and bumped our booking rate on Snapchat to 4 times what it is on other paid social platforms. With this consistently strong performance, we've confidently scaled our investment in Snapchat by 5 times and made it one of our primary acquisition channels."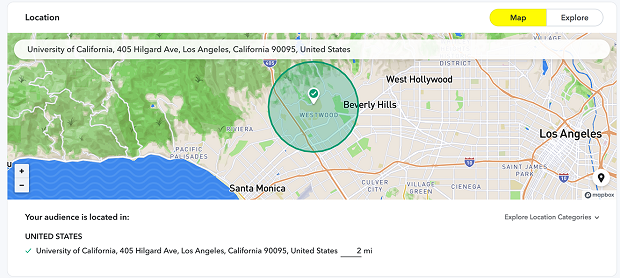 Nordstrom Rack used radius targeting around their newest store to drive foot traffic from nearby shoppers.
Nicole Luna, Social Media Specialist, Nordstrom: "Radius targeting has been a fantastic new tool for us to promote store openings. By setting a radius of 20 miles around our newest location we've been able to get in front of the most relevant Snapchatters who are within range to walk through our doors and start shopping with us."
Location Categories let advertisers reach audiences based on the type of location they're in. They're a good way for brands to quickly reach high-intent Snapchatters at scale — and helps users see relevant ads in a moment when it's easy can take an action.
From today we are offering over 150 categories in the US: cinemas, colleges & universities, stadiums & arenas, restaurants, hair salons and more. UK coming soon. This capability is entirely unique to Snapchat, and not something advertisers are able to achieve seamlessly on any other major ad platform.
Both offerings above are accessed in self-serve Ads Manager through a new location search bar. It's a simple UI to centralise location targeting and allow spontaneous searches.