Seventeen ecommerce companies featured in the 4th annual Sunday Times SME Export Track 100 league table, which ranks Britain's small and medium-sized (SME) private companies with the fastest-growing international sales.
The growing importance of online sales has seen the number of ecommerce companies qualifying for the league table steadily increase since its launch in 2015, with 17 companies this year (compared to 16 in 2017).
While some, like Wool Warehouse (No 20) and Digiflex (No 34) trade solely online, others like Minerva Research Group (No 24) and Charlie Bears (No 64), invested in ecommerce after first establishing a physical footprint through wholesale or stores.
Other ecommerce companies on the table include Pet Food UK (No 37), which sells its premium pet foods to customers in 12 countries, and plans to launch a website in Hong Kong this summer, and LA Micro UK (No 97), which supplies computer parts, servers and workstations to customers in Europe.
Ian Wilson, CEO, DHL Express UK & Ireland, sponsor of the SME Export Track 100, commented:
"Cross-border ecommerce is growing at around 25% per year, and the opportunity this provides for fast growth and success is reflected in the great performance of the ecommerce businesses in this year's league table. We encourage all businesses to be brave – in many countries over 60% of online shoppers buy from abroad, so there has never been a better time to grow your business internationally."
These ecommerce firms appear on the league table with other businesses from around the UK, including drinks maker Cawston Press, camping equipment wholesaler Kampa and chocolatier Monty Bojangles.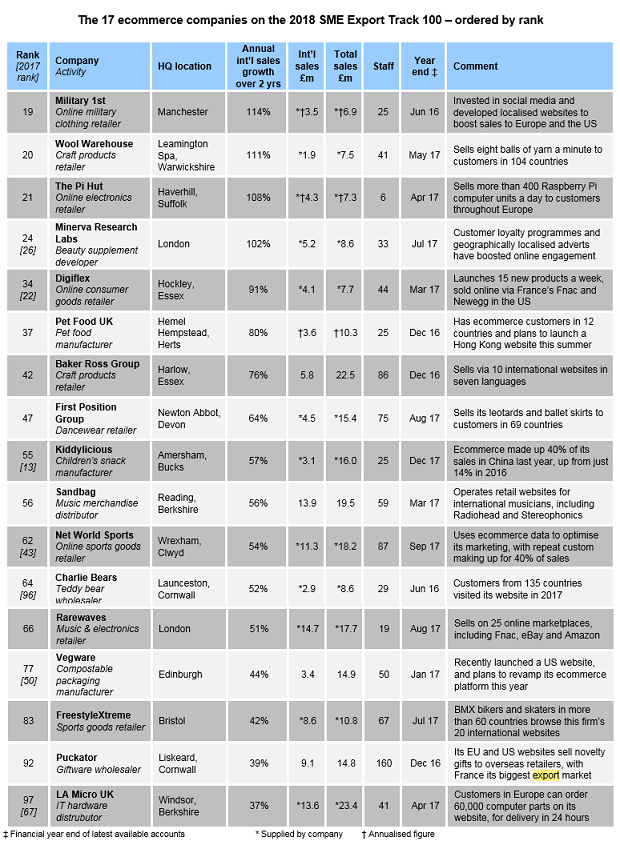 The full league table was published as a 6-page supplement in the business section of The Sunday Times, both in print and in the digital edition, and on www.fasttrack.co.uk.
Methodology
Fast Track has published league tables of the UK's top-performing private companies with The Sunday Times for the past 21 years. The company was founded and is run by Dr Hamish Stevenson, who also holds an associate fellowship at Green Templeton College, Oxford University.
League table criteria
Companies have to be registered in the UK and be independent, unquoted and ultimate holding companies. International sales growth is measured by compound annual growth rate (CAGR) over the latest two financial years. Annualised international sales have to be greater than £150,000 in the base year, exceed 20% of total sales in the latest year, and show a rise from the previous year. Companies have to be making an operating profit in their latest year. Recruitment and payroll firms are required to achieve gross profits greater than £5m in their latest accounts.
Excluded companies include those with total sales of more than £25m (covered by our sister league table, International Track 200), pure property developers, financial trading companies and LLPs.
The research was carried out by Fast Track between October 2017 and January 2018. Most of the companies were interviewed by telephone or visited by the Fast Track research team. The research is based on the limited available data on international sales. Most small firms file abbreviated accounts, whilst others may not disclose geographical sales. For this reason, sales and international sales figures for many companies are not available. There may, therefore, be omissions.
About DHL Express
DHL Express is a main sponsor of the SME Export Track 100 for the second year.
DHL is the global market leader in the international express market, specialising in time and day critical shipment delivery to all corners of the world. It ensures your products are quickly and reliably delivered to your customers all over the world, providing tailored delivery options and returns. DHL also provides expert advice for UK businesses looking to expand into global markets and advises on everything from delivery options on your website to the intricacies of customs duties and taxes.