US slow cooker brand Crock Pot suffered a PR nightmare after it was featured in the plot of a popular TV show- but a Super Bowl ad from NBC and some savvy social media marketing helped reverse its fortunes.
Crock-Pot found itself at the centre of a social media maelstrom when "This is Us" revealed that the cause of the house fire that killed Jack Pearson was a faulty slow cooker.
After the episode aired last month (Jan 23rd) , the stock price of the Crock Pot brand plummeted, causing a PR nightmare.
The development led a number of Crock-Pot owners to take to social media with fear – and some even claiming to be throwing out their gadgets
Crock-Pot soon came out with a statement calling the scenario 'nearly impossible' and insists that a similar situation has never occurred.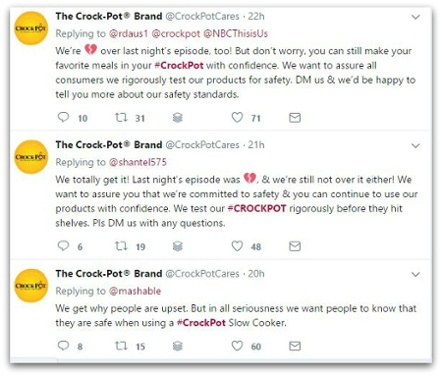 "It was unfortunate," says Milo Ventimiglia, whose beloved character Jack Pearson perished as a result of the fire. "We're aware of the impact and we hope to never create pain or upset."
So Ventimiglia, along with show creator Dan Fogelman set about remedying the situation with a Super Bowl ad that introduced the hashtag, "Crock-Pot is innocent."
"Everything that we had written about that episode was slow cooker," explains Ventimiglia. "It's always been slow cooker. It always will be a slow cooker. It's unfortunate the assimilation to a well known well loved and even by me personally owned product by the community online."
Continues the actor: "I think regardless of any kind of fault of anyone's own, we were aware of the impact. Things happen. But [we were] in a position to turn the car in a different direction."
When it came to the execution, "It's easy for us to do," says Ventimiglia. "It's me learning a handful of lines, which I do on a daily basis, and it's Fogelman picking up some footage of me doing that. If it helps release a little bit of pressure from as beloved a company as Crock-Pot, then, of course, it's always worth it."
He starts off in a sombre tone, about how the country is divided, before openign a Crock-Pot full of chili and serving himself a bowl, making it clear that he was talking about forgiving the Crock-Pot. The screen then flashes the Crock-Pot logo, and the hashtag #CrockPotIsInnocent appeared on the screen.
On Feb. 3, after the "This Is Us" ad supporting the slow cooker was released, digital content engagement around Crock-Pot increased by 84%, according to data crunched by Amobee.
Further, there were nearly 2,000 tweets using the hashtag #CrockPotIsInnocent on February 3, 2018 with sentiment around that hashtag being 57% positive, and the most common sentiment being that it was hilarious and a brilliant promotion for Crock-Pot.
Overall, since the slow-cooker episode of "This Is Us" first aired on Jan. 23, digital content engagement around Crock-Pot has increased by 154% as compared to the time period between Jan. 11 -22, 2018. Since then, 57% of all Crock-Pot digital content engagement has been This Is Us-related, with 29% of all Crock-Pot digital content engagement being Super Bowl-related.
"The overwhelming positive sentiment around the #CrockPotIsInnocent hashtag reaffirms that not only are 'This Is Us' fans able to tell the difference between a fictional storyline and the reliability of the real product, but that they have a sense of humor around their favorite show as well," said Jonathan Cohen, principal brand analyst at Amobee.