YouTube has announced the top ten Christmas ads of 2017 in the UK. John Lewis's 'Moz the Monster' Christmas ad tops YouTube's annual festive leaderboard in the UK this year, according to league tables revealed today.
Supermarkets and department stores continue to dominate, but digital store Very.co.uk is maintaining its seat at the table (moving up two spots since 2016), while tech company Apple has entered at tenth place. Last year's UK list saw Sainsbury's take the crown, but department store John Lewis has edged out the supermarket for 2017.
As Christmas adverts have become a key part of the holiday zeitgeist, much like the Super Bowl in the US, people across UK are turning to YouTube to find them.
The full list of rankings for 2017 in the UK is below. These include viewer figures on the videos, although these are not how the top ads are determined, as this is using algorithm that factors in organic and paid views, watch time and audience retention.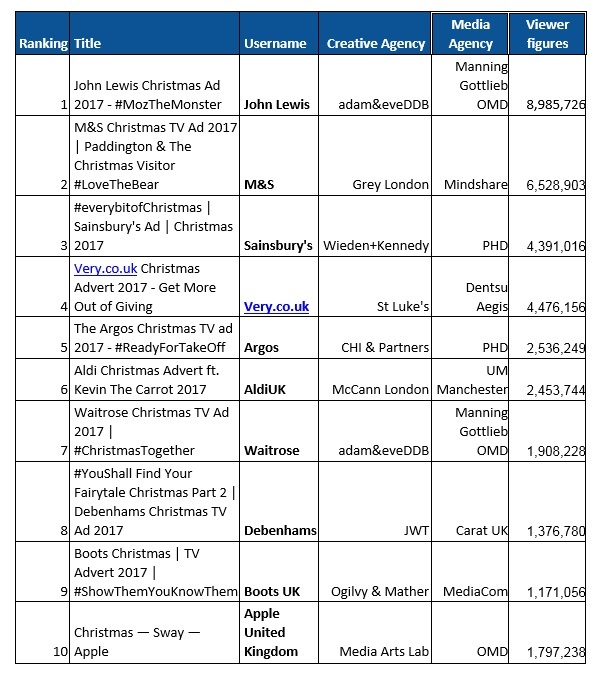 In comparison, the top 10* Christmas ads of 2016 in the UK when the list was released last year were:
1. Sainsbury's OFFICIAL Christmas advert 2016 –The Greatest Gift
2. John Lewis Christmas Advert 2016 – #BusterTheBoxer
3. M&S 2016 Christmas Ad: Christmas with love from Mrs Claus
4. Waitrose Christmas TV ad 2016 | #HomeForChristmas
5. The Tale of Thomas Burberry – Burberry Festive Film 2016
6. Very.co.uk Christmas Advert 2016 – Get More Out of Giving
7. Big Dilemma (Asda)
8. The Argos Christmas Yetis TV Advert
9. Aldi Christmas Advert 2016 – Kevin The Carrot
10. #BootsChristmas TV advert 2016 – the gift of beauty
*Ads were ranked based on an algorithm that includes paid views, organic views and how much of a video people watched.