With Singles' Day just around the corner, e-commerce giant Alibaba is once again hoping to beat the $18 billion in total sales seen at last year's event. Global Web Index has put together a guide on how to reach Chinese online shoppers during the biggest sales day in the world.
Not only are Chinese Online Shoppers 69% more likely than the global average to be shopping via their mobile, there's also over a third who are researching products via mobile apps, according to Global Web Index.
Mobile apps are a more important product research channel than the brand/product sites – with WeChat likely to have a big role to play here. A mobile-first strategy is a complete essential for engaging these consumers, then.
The key aspect of Singles' Day – discounts and special deals – also matches with these digital consumers' primary purchase drivers.
Over half say free delivery encourages them to complete a purchase online, while discounts/coupons are the second most-important influence on purchase decisions.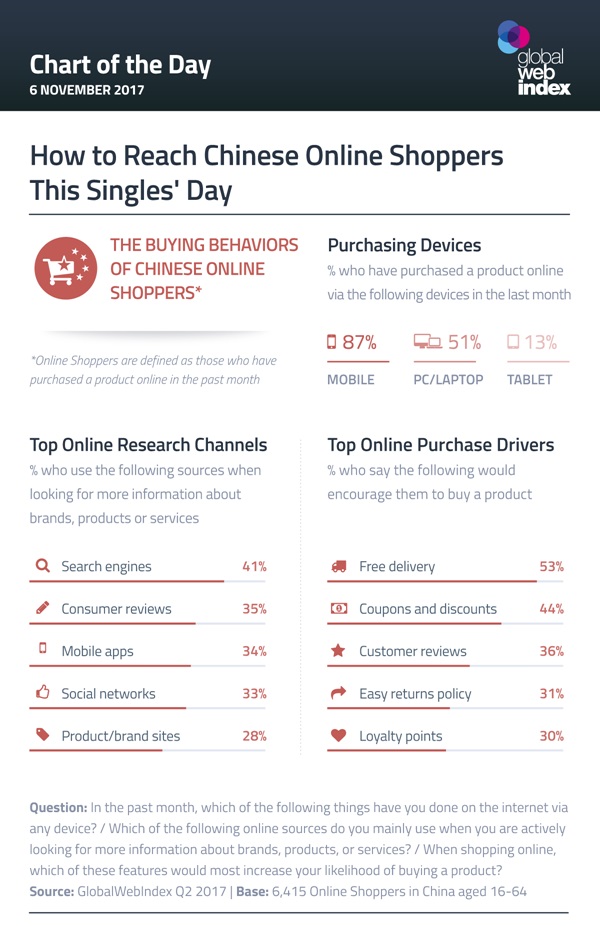 Source: Global Web Index