Kellogg's waffle brand Eggo's is running a promotion tied in with the launch of hit Netflix show Stranger Things 2, which features the brand.
The show, which launched on Netflix last Friday, follows a group of young boys dealing with a range of paranormal phenomena in the tiny town of Hawkins, Indiana.
Eggo Waffles, which is the food of choice of character Eleven in the show, created custom recipes for a nine-course waffle menu, so that fans can throw the ultimate viewing party or just properly accompany their binge-watching couch session. Each of the nine episodes have a corresponding dish, themed around the title of the episode.
You'll love these Eggo recipes. Trust us. Friends don't lie.
Get the recipes: https://t.co/zddMfmZ2i5 and watch #StrangerThings on Netflix. pic.twitter.com/TQ48dlUuKA

— Eggo® (@eggo) October 27, 2017
Eggo also created DIY step-by-step instructions to transform a waffle box into an Eleven costume accessory, like a chic purse or a flashlight. Directions can be found below.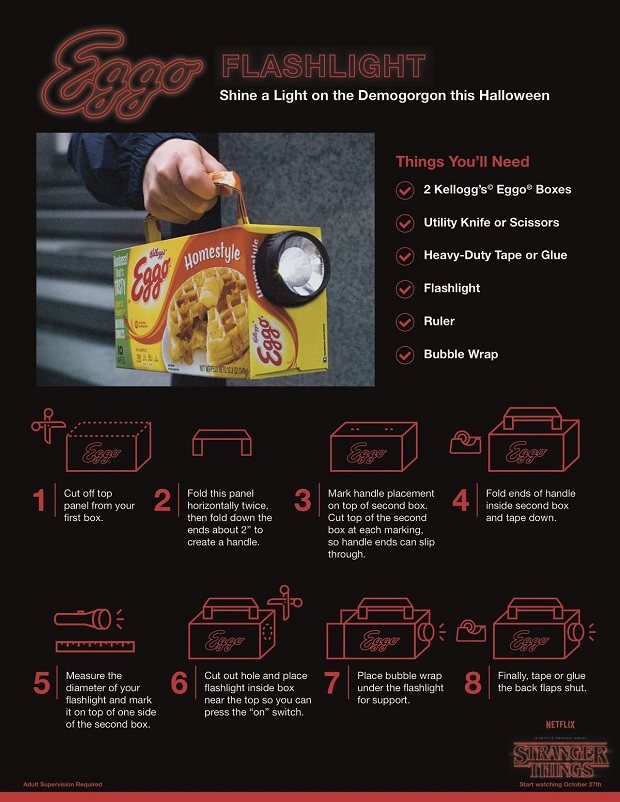 Eggo has also created a spoiler blocker, "L'Eggo my Spoiler," for fans to avoid any troublesome internet gossip.
Fans who haven't had a chance to watch yet can avoid spoilers online by adding the Eggo Stranger Things Spoiler Blocker to Google Chrome.
According to the Chrome Web Store, the blocker will detect and block posts on Reddit, Facebook and Twitter that mention "Stranger Things" or "Stranger Things"-related terms, such as Upside Down or Hawkins Laboratory. The blocker will also block stories on Google News.
The blocked spoilers can be viewed by clicking on the blocked area.
The extension comes with a warning that it can't guarantee that EVERY spoiler will be blocked, but it will try its best.
Download the extension for Chrome here.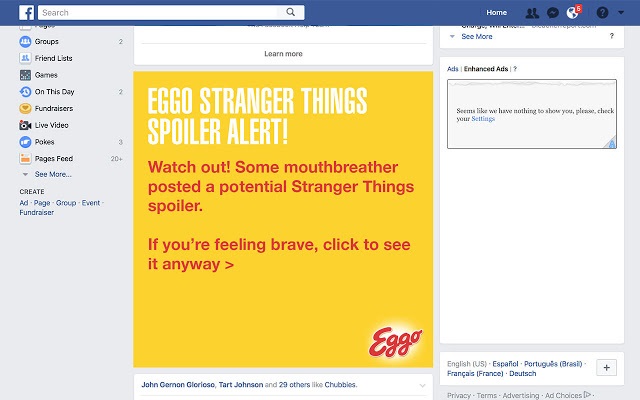 Stranger Things is one of Netflix's most marketable original shows, and the return of season two has seen a number of brands release activations to tap into the popularity of the show.
According to Fox Business, Mentions of Eggo waffles on Twitter and Instagram have increased 143% since Oct. 20, one week before "Stranger Things" second season's premiere date.
Mentions have increased 986% in October compared to September. Kellogg declined to provide sales data for the product since the show's debut.