Svedka Vodka has launched an innovative Halloween campaign featuring banner ads that haunt users everywhere they go on the web, until they can lift the curse by infecting their friends instead.
The Svedka Banner Ad Curse is fuelled by the insight that banner ads are already creepy following users around like a stalker and knowing their darkest secrets (or at least which websites and products they like online).
The campaign, created by Toronto agency Bensimon Byrne, starts by serving up the "Curse Video," a forced-view pre-roll video that once seen subjects the viewer to a flood of digital ads that target and retarget them with creepy messages and Svedka Vodka cocktails.
The curse messages are based on information that the ad knows about the user – if someone is up late, on their mobile devices, watching a video, posting things about other vodkas, or even go into private browsing mode.
Messages include things like:
'I HEART FOLLOWING YOU AROUND NEW YORK.'
'YOU SHOULDN'T BE UP THIS LATE.'
'ON YOUR PHONE, CALLING FOR HELP?'
'I KNOW YOU LIKE THE WRONG VODKA.'
'I'M BATHING IN YOUR ONLINE DATA.'
People can break the curse and be free of the banners by visiting the Svedka Vodka site and sharing news articles. If any of their friends click on the article, they'll be redirected to the curse video that cookies them and starts the whole 'hellish' process all over again.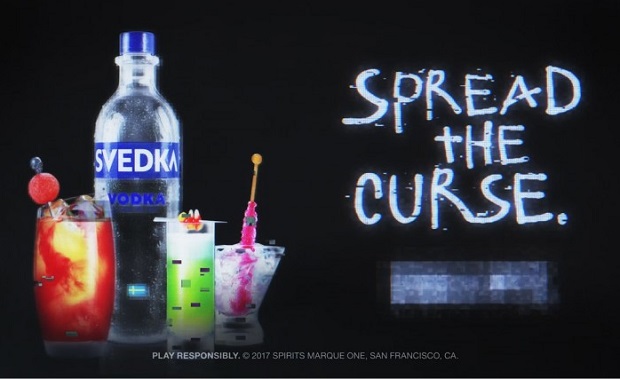 Bensimon Byrne has been Svedka Vodka's AOR since 2012. This is the third year in a row that the agency has created a Halloween campaign for the brand, following 2015 'Printable Costumes' and 2016 'First World Horror Stories'.