Uber's app has soared to first place within the App Store Travel category, according to data from Hitwise, indicating London passengers are still keen to use the firm's services despite having its license stopped in the city.
However, Uber's competitors have also benefitted from news of its licence removal, indicating some London passengers are looking for alternatives. Hailo jumped 63 places, whilst Gett increased to 21st place (see table below).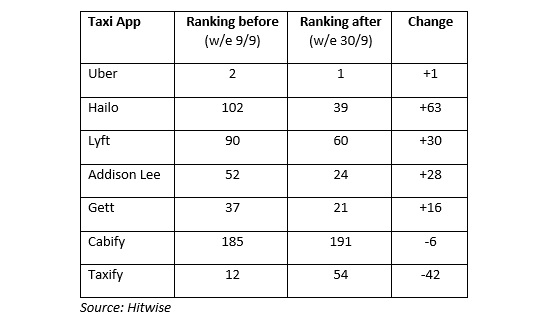 Source: Hitwise
Appeal process delays ban
Uber has officially appealed Transport for London's decision last month not to renew its licence in London, meaning that it will continue to operate indefinitely.
"While we have today filed our appeal so that Londoners can continue using our app, we hope to continue having constructive discussions with Transport for London," the company said in a statement.
"As our new CEO has said, we are determined to make things right."
The company provided no indication of how long the appeal process is expected to take. A first hearing is likely to happen on 11 December and a person with knowledge of the matter said that the whole process could take several months and "perhaps longer".
A spokesperson for TfL said: "We note that Uber has submitted an appeal. No further comment will be made pending the appeal hearing."
TfL's decision to stop Uber from operating in its current form, announced on 22 September, was largely based on concerns around user safety.
The transport authority said at the time that it determined Uber not to be "fit and proper to hold a private hire operator licence". It said that it considered the company's approach and conduct to "demonstrate a lack of corporate responsibility in relation to a number of issues which have potential public safety and security implications".
An estimated 3.5 million people use Uber in London and around 40,000 people are licenced to drive for it in the city, making the capital an important market for the company that was founded in 2009. An online petition to save Uber in London has garnered more than 850,000 virtual signatures.