In 2017, mobile will make up more than half of all digital ad spending in the Nordic countries of Norway Sweden and Denmark, according to eMarketer's latest digital ad spend forecast for EMEA.
Within these markets, Denmark and Norway are the frontrunners, spending close to a third of their total media budgets on mobile—equating to $605.5 million for Denmark and $600.3 million for Norway. In both countries, the increasing popularity of mobile has driven digital budgets upward. This year, digital sales will account for more than half of total ad spending in these markets, with Denmark allocating 53.0% and Norway with 54.7%.
Sweden—where traditional media still holds strong—lags behind its Nordic neighbors somewhat, allocating almost 43.0% of total advertising budgets to digital.
In neighbouring Finland, which has struggled with a sluggish economy for several years, mobile ad spending will increase 23.3% this year, eMarketer estimates, and will make up less than half (48.5%) of digital ad spending. While Finland's economy is expected to recover, for now its digital ad spend will be significantly lower. This year, digital ad spending in Finland will reach an estimated $393 million—translating to less than a third (29.4%) of total ad outlays.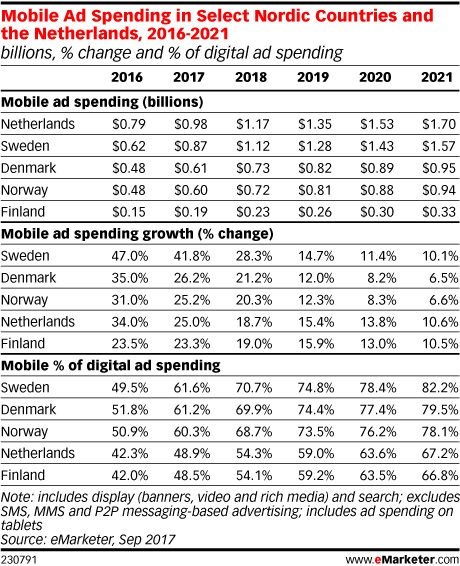 "The strong growth in mobile ad spending shows that advertisers in the Nordics are beginning to catch up with consumers," said Jasmine Enberg, forecasting analyst at eMarketer. "Denmark, Norway and Sweden already have some of the highest smartphone user penetration rates worldwide, at 90.9%, 89.4% and 89.8% of mobile phone users in 2017. Finland has lagged behind.
Methodology
eMarketer's forecasts and estimates are based on an analysis of quantitative and qualitative data from research firms, government agencies, media firms and public companies, plus interviews with top executives at publishers, ad buyers and agencies. Data is weighted based on methodology and soundness. Each eMarketer forecast fits within the larger matrix of all its forecasts, with the same assumptions and general framework used to project figures in a wide variety of areas. Regular re-evaluation of available data means the forecasts reflect the latest business developments, technology trends and economic changes.