The retail sector will take more than a fifth of all digital expenditure in Germany this year according to eMarketer's Digital Ad Spending In Germany, by Industry: Forecasts and Trends report.
Thanks to the popularity of ecommerce spending in Germany, eMarketer expects the retail sector to spend $1.38 billion on digital advertising in 2017, making it the largest industry sector for online ad spend.
Unsurprisingly, mobile advertising in Germany is expected to grow significantly this year thanks to the prevalence of ecommerce combined with strong smartphone adoption. eMarketer expects mobile investment to grow by 30.5% in 2017, representing a spend of more than $835 million.
Monica Peart, senior forecasting director at eMarketer commented: "The German retail industry's investment in mobile ad spending has seen rapid growth more recently as the luxury goods market, especially fashion players, begin to make use of the medium. This increased spend on mobile advertising is in tandem with German consumers up their engagement with mobile devices."
Among the other core industries that eMarketer tracks, which also includes automotive, consumer packaged goods (CPG) and consumer products, financial services, and travel – automotive will rank next to retail in terms of spend on digital. This year the automotive share of digital ad spending in Germany will amount to $875 million – a growth of more than 7.0%. Across all the sectors that eMarketer tracks, spend on desktop/laptop will show negative growth as consumers and subsequently advertisers shift towards mobile.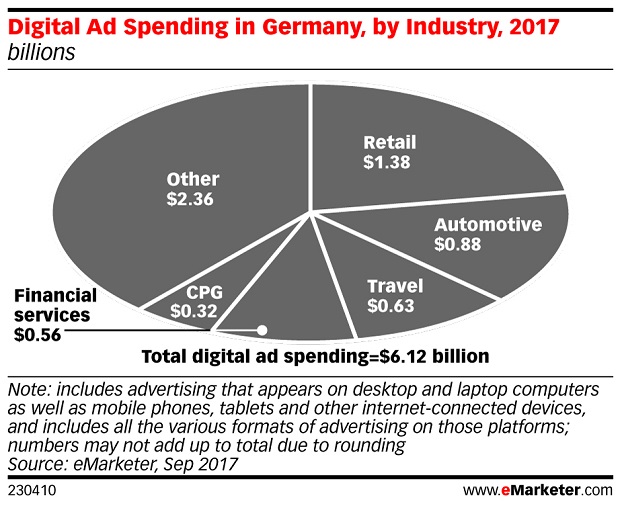 Methodology
eMarketer's forecasts and estimates are based on an analysis of quantitative and qualitative data from research firms, government agencies, media firms and public companies, plus interviews with top executives at publishers, ad buyers and agencies. Data is weighted based on methodology and soundness. Each eMarketer forecast fits within the larger matrix of all its forecasts, with the same assumptions and general framework used to project figures in a wide variety of areas. Regular re-evaluation of available data means the forecasts reflect the latest business developments, technology trends and economic changes.