Britain severely languishes in 10th out of 17 major European countries when it comes to how quickly sites load on mobile, according to new research from Google.
Despite perceptions that the UK is one of the most sophisticated digital markets, research has also found that the UK is failing to meet the needs of digital savvy Brits, where 50% of people think sites should load in less than 2 seconds  – yet in the U.K. the average is a whopping 8.9 seconds.
For publishers website load times are of paramount importance to overall success. The research shows that publishers whose mobile sites load in 5 seconds earn up to 2x more mobile ad revenue than those whose load in 19 seconds.
And for ecommerce sites, abandonment due to slow load times can be hugely costly since 30% of all online shopping purchases now happen on mobile phones and 79% of shoppers who are dissatisfied with site performance say they're less likely to purchase from the same site again.
Google has created a tool test my site that allows companies to check their own sites for how fast or slow they are.
Two infographics just below that rank countries and sectors in terms of mobile speed times.
The full rankings for countries are here: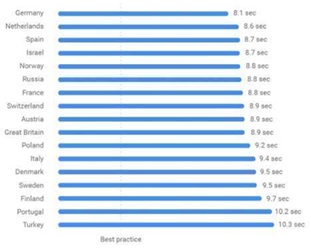 And a sector breakdown is available here: