Snapchat has launched Sponsored 3D World Lenses, with Warner Brothers and Budweiser among the first brands signing up to the augmented reality platform.
Sponsored 3D World Lenses are the most significant update to Snapchat's Sponsored Lenses ad product since they launched in October 2015.
In his session at Advertising Week New York, Imran Khan, Chief Strategy Officer at Snapchat, also talked about the changing nature of mobile communication and visual storytelling, and how advertisers should adapt to the changing nature of communication.  You can watch his session here.
From this week, global advertisers can purchase 3D World Lenses — characters and objects, like the dancing hot dog — for the Snapchat community to play with. This is the most significant update to Sponsored Lenses since their October 2015 launch.
One of the first partners are Warner Bros who have used the new 3D World Lens to create the 3D Blade Runner "Spinner" car.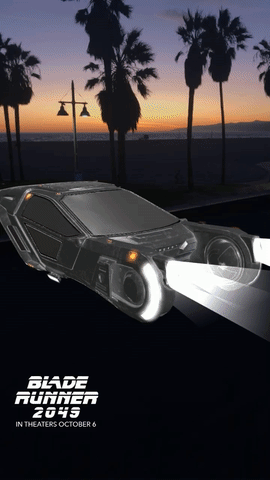 About Sponsored 3D World Lenses:
What they are: A new way for advertisers to use the Snapchat camera to bring characters and products to life, mimic how they appear in the real world, and drive interaction between users and a brand's IP.
For play, but also product trial: For advertisers, 3D World Lenses are a critical step to entertain — but the new format can also drive product discovery and product trial in Snapchat.
How to play: Appearing in the world (outward-facing) Snapchat camera, you can move, resize, and make them a part of the space around you. They recognize surfaces, so once locked in place you can walk towards, around them etc.
What's new: In May we added a basic outward-facing Lens capability for any advertiser; those were limited to floating objects and atmospheric effects — these are 3D objects you can approach etc.
Do Lenses work for brands?: Yep. On average, campaigns with Lenses drive a 19.7 point lift in ad awareness, 6.4 point lift in brand awareness, and 3.4 point lift in action intent (Snapchat In-App polling powered by Nielsen Brand Effect Services, Q3 '16 – Q2 '17).
How to purchase: Directly from our team, and run as a) a National Lens, b) a targeted Audience Lens (by age, gender, interest-based targeting) or, c) a swipe-up attachment to a Snap Ad (new capability for Snap Ads!).
Wait, what's a "Lens"?: Lenses let Snapchatters apply real-time effects and sounds to their selfies, and now the world — so brands can take part in the communication on Snapchat in the most fun, personal way. An average Snapchatter that plays with Lenses spends over three minutes doing so per day.
Other Key Stats from Imran's presentation:
The Snapchat community is taking more than 3 billion Snaps a day on average, so the run rate is now more than 1 trillion Snaps taken in a year.
We've seen over 7,000 *years* of total play time with the puppy dog Lens.
The dancing hot dog Lens was viewed over 2 billion times (up from 1.5 billion shared in August).
Snap Ads, our full-screen impressions, drive results quickly: research today shows 2/3 of ad awareness lift is achieved in the first two seconds of a Snap Ad (Nielsen Brand Effect study commissioned by Snap, Jan-June 2017).
Read the official blog post here