More bloggers are turning professional, with a 4% rise in the number for whom it is now their main source of income, according to new research.
The annual report, published by Vuelio in conjunction with Canterbury Christ Church University, surveys hundreds of bloggers about their habits, intentions and perceptions of the blogosphere.
While a majority (62%) of bloggers are still hobbyists, there's been a 4% rise in the number for whom it is now their main source of income and a 6% rise in those who see it as their future main source of income. This points to a legitimisation of blogging as an industry, as more people now see it is a valid career path.
The professionals are also blogging in a different way to the hobbyists, unsurprisingly posting more frequently with 33% of professionals publishing five or more times a week, compared to just 7% of hobbyists managing the same frequency.
Though the blogging industry is legitimising itself, the number of largest blogs (with a monthly audience of over 10,000) is nearly unchanged from 2016, suggesting that the established influencers are here to stay and there's not much room for many more.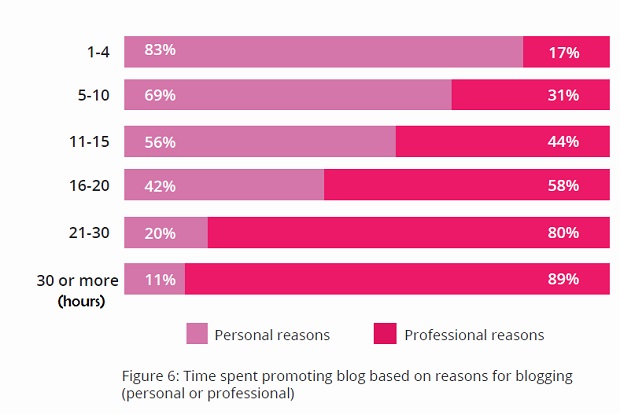 Bloggers may be a force to be reckoned with, but they still feel they lack the credibility that journalists – their traditional media counterparts – have. It is improving, but slowly; this year saw a 5% rise in those disagreeing with the question, 'PRs regard traditional journalists as more important than bloggers'.
Is trust and respect from PR professionals and brands the best way to gain that integrity? Collaborations are typically a blogger's largest source of income and good relations with PR is the best way for the industry to grow further. Most bloggers (75%) do have these good relationships, though it varies wildly depending on if they are blogging about parenting (87% good relationships) or politics (just 17%).
Relationships work both ways and PR needs to be giving something back to the industry, as 71% of bloggers believe PR professionals expect support for their brand for little in return. As 58% of bloggers expect to be paid for all the coverage they give brands, there's clearly still some ground to be made up between the two fields.
About the survey
The full survey can be downloaded for free online, here: http://www.vuelio.com/uk/uk-bloggers-survey/
This survey was conducted in February 2017 to explore how bloggers work, their activities and views about their relationship with PR professionals and the future commercialisation of their work.
To reach this group of bloggers an online survey was sent to all UK bloggers registered with the Vuelio database. This resulted in 586 usable responses. As the database largely represents those owning and managing their own blog, those who blog on behalf of organisations are under-represented and would be likely to have different views and behaviours than are represented here.