Chatbots are being used by fintech start-ups to help customers manage and save their money. Plum, Chip and Cleo are automatic financial assistants which use intelligent software to understand customer spending habits, and customers can chat about their finances to their chatbot whenever they feel like it.
Plum
Plum is the first AI powered Facebook chatbot that enables you to start saving small amounts of money effortlessly. The chatbot connects your current account and Plum's AI learns your spending habits, allowing it to automatically deposit small amounts of money into your Plum savings account every few days.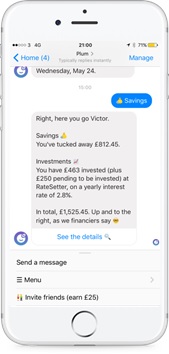 The idea is to save small amounts of money regularly with customers barley noticing. Plum does this by looking at your last 3-12 months spending and predicts how much you can afford to save now and in the future.
Plum's founders decided that Facebook messenger was an appropriate way to deliver a saving assistant, not only because messaging apps are where Plum's target users already congregate, but also because Plum is largely a background process.
Chip
Chip is a micro-saving chatbot similar to Plum. The key difference from Plum is that Chip is an iOS and Android chatbot app and not built in an existing messaging app like Facebook Messenger.
The Chip bot automatically puts money into your Chip saving account based on what it deems you can afford. It does this by learning your spending habits and running this data through its own AI.
Speaking about the use of a chatbot interface; the Chip team said "Chip's chatbot user interface has allowed a completely superior conversion rate from install to account creation. Chip is seeing 38% conversion through the on-boarding process which is like nothing we've ever seen in app before. We have deduced that the main reason for this improved conversion is that the chatbot "feels" like a conversation – and therefore people are less willing to break the flow."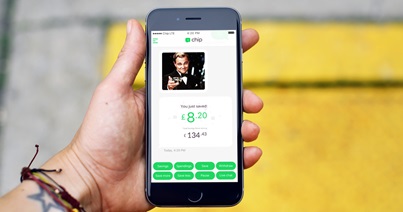 The chatbot has also allowed us to target out UI specifically to millennials. Millennials are incredibly comfortable within chat interfaces and it automatically creates a familiar bond between products and user.
Lastly, the chatbot interface has huge scope for scale. With the trend of applications moving towards Messenger Apps, WhatsApp Apps etc. a chatbot interface will allow us to easily move over to these platforms whilst keeping our user interface exactly the same."
Cleo
Cleo is an intelligent assistant for your money. The AI-powered chatbot, lets customers cross-examine their bank accounts and credit card data to help keep track of spending and budget better.
The chatbot is for "people that would rather not spend a couple of hours every week in a spreadsheet trying to manage their cash".
The start-up uses machine learning to help make customers smarter with money and to automate processes such as categorising transactions or making sense of graphs.
In practice, this ranges from managing subscriptions, optimising your day-to-day spending to finding better financial products. Not dissimilar to Plum and Chip, the bigger picture for Cleo is to offer a full range of banking products using the data you've handed over and its algorithms to make sure you're always getting the best deal.