Ecommerce businesses could add as much as 6% to their revenues, representing tens of billions of dollars globally, by focusing on the most effective optimization and personalization techniques, according to new research.
The study, from Qubit, a personalisation tech platform, conducted analysis of more than two billion user journeys and 120 million purchases, to shed light on which mar-tech tactics actually have the biggest impact on sales.
The findings have been assured by PwC and Qubit is calling on the rest of the industry to follow suit. The report shows:
• Using the right personalisaion techniques could increase sales per visitor by as much as 6%, which could be worth billions of pounds for businesses selling online. Each technique is broken down and measured on RPV (snapshot table below)
• However the study finds that brands are still pumping huge budgets into techniques which have little, or even negative impact on sales
• Ecommerce businesses are trying to compete with Amazon, but uncertainty over which techniques actually work means that many are struggling. Qubit's calling on the mar-tech sector to be far more transparent about how effective their tools are to businesses
• The research has taken Qubit years to compile and analyse, and PwC has verified the findings — it represents one of the most comprehensive studies into eccommerce techniques ever undertaken
The report sheds light on the effect for online revenue when businesses engage in high performing website optimization and personalization strategies such as scarcity, urgency, or social proof messaging. These types of techniques perform functions like displaying current stock levels for products being viewed, or alerting shoppers when a sale is ending soon. The report also highlights areas where ecommerce businesses may be allocating resources to lower performing strategies.
"Now is the moment for transparency in our industry," says Graham Cooke, founder and CEO of Qubit. "Ecommerce leaders have to get personalization right when they're trying to compete against the likes of Amazon, and yet it's so hard to know what really works. We want every marketer to know precisely what tactics will help them beat the 800-pound ecommerce gorilla, and I invite other vendors in our industry to do the same."
The top techniques measured in the report were: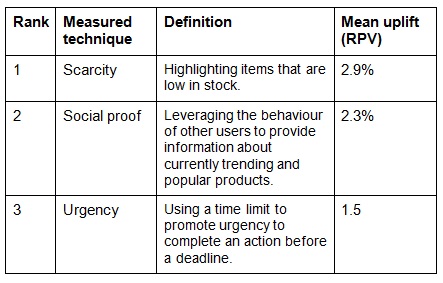 A number of common, less effective techniques measured in the report: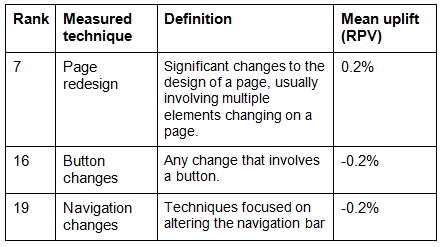 The data shows that programmatic and personalization experiences that tap into customer, product, or business data are providing anywhere from two to 14 times more incremental revenue per visitor (RPV)[2] versus traditional optimization efforts, which focus mainly on cosmetic changes such as colors and location of buttons. Conversely, experiences like popups or buttons that take a user back to the top of the page, can even have a negative impact.
The study also finds businesses that engage in targeted personalization based on user behaviors and preferences can expect a three times better result than untargeted marketing tactics. The complete report can be found here.
The Effectiveness Fog
A survey of nearly 250 marketers[3] shows that more than a quarter (26 percent) of brands spend over $51,000 on website testing and optimization tactics, and of those, nearly one in ten (8 percent) spend more than $100,000 annually. Yet many of these basic tactics are highlighted in the report data as having limited effectiveness.
The survey also highlighted transparency concerns similar to those seen in the advertising industry, with 72 percent of respondents agreeing that tech vendors could be more transparent about the effectiveness and measurement of their solutions.
"At Arcadia we have always been focused on making sure our digital marketing investments drive true, incremental value to the business. Personalization is helping us build relationships with our customers that translate into increased engagement, loyalty and revenue," said Simon Pritchard, group digital director at Arcadia. "All of the Arcadia brands – Burton, Dorothy Perkins, Evans, Miss Selfridge, Topman, Topshop, and Wallis – are working with Qubit and seeing great returns by investing in a platform that delivers personalization at scale. This report backs up our trust in Qubit and I'm delighted to see that that they are the first to take a stand, releasing the results of this study to call for greater transparency and rigor in the market."

Consumers Demand Personalization
Qubit's research also reveals the highly competitive online environment brands face, with almost three quarters (73 percent) of online consumers[4] spending most of their money on between just one to five websites.
Consumer sentiment also appears to support the report's findings, showing that customers value data-driven personalization. Half of the respondents (50 percent) said they enjoyed receiving product recommendations that fit their interests or preferences, while almost half (49 percent) said they were willing to share their preferences with a business in order to receive a better shopping experience.
A majority of respondents (81 percent) said it was either 'very important' or 'somewhat important' that a website provided targeted promotions based on their own preferences
"We've performed the most comprehensive study of marketing personalization in the industry," said Will Browne, data scientist and product manager at Qubit. "What is particularly exciting is the size of the cumulative effect we see for our top performing clients; with some personalization strategies having up to a 6 percent impact on ecommerce revenue."
"There are clearly longstanding issues around transparency in marketing, which will only be solved by advertisers and providers rigorously and openly assessing whether the services that marketers are paying for are actually delivering results" said Sam Tomlinson, partner at PwC. "My team worked with the Qubit data science team to subject their methodology – i.e. their data capture, calculations and reporting – to our rigorous independent assurance procedures. The report by Qubit provides a detailed analysis of today's marketing toolkit and, given the scale and depth of data analysed, is a first of its kind that I have seen."
About This Study
Qubit categorized and analyzed more than 2 billion user journeys and 120 million purchases, from a repository of 12.5 billion, to determine the type of uplift ecommerce businesses can expect from multiple optimization techniques. The full set of data and methodology from this study can be found here. To read the full PwC independent assurance opinion click here.
Source: www.qubit.com