Ad blocking is now one of the biggest threats to digital marketing, estimated to cost global publishers over $27bn by 2020 through lost revenues. But are we witnessing a slowdown, or simply a migration of filtering software from PCs to mobiles?
Around 615 million devices are now blocking ads across the globe, as more people deploy ad blocking software on their phones too. In the US, there is a significant take of of mobile ad blocking software- but there is also some good news for digital publishers: the UK is seeing ad blocking levels "stabalise".
Ad blocking levels have "stabilised"- IAB
The proportion of British adults online currently using ad blocking software has remained at around 22% for the last year, according to the latest wave of the Internet Advertising Bureau UK's Ad Blocking Report, conducted online by YouGov.
"The continued rise in ad blocking that some predicted simply hasn't materialised," said the IAB UK's CEO Jon Mew. "A key reason is publishers denying access to content to ad blockers which, in effect, has created that 'lightbulb' moment for people who realise that they cannot access free content without seeing the advertising that funds it. The industry has worked hard on promoting this "value exchange" and it's paying off."
From the publishers' perspective, Piers North, Strategy Director, Trinity Mirror said "Like all publishers, we'll continue our attempts to balance the often competing requirements of what brands and agencies value, with the experience that we would want to deliver for our users in order to invest in professional content. This is especially important in an era where advertisers are increasingly demanding quality inventory and society is more and more concerned with the provenance of content and news."
One in five (21%) who originally downloaded ad blockers don't currently use them. The biggest reason that people switch off their ad blockers, aside from switching to a new device (24%), is not being able to access some content with the blocker installed – 24% citing this reason, up from 16% a year ago.
Mew goes further to suggest, in reality, ad blocking levels may actually be lower than 22% as nearly one fifth of those claiming to currently use an ad blocker cited their anti-virus software or couldn't identify using a genuine ad blocker "which would put the real number blocking ads at nearer 18%."
"Despite the stall in ad blocking, it's vital the industry doesn't take its foot off the pedal in working to provide people with a better, lighter and more considerate online advertising experience which will discourage them from blocking ads altogether," said Mew.
Ad blocking goes mobile: 615m devices blocking ads worldwide
Around 615 million devices are now blocking ads across the globe, as more people deploy ad blocking software on their phones too, according to new research.
The figure, from a new report from Pagefair, represents year-over-year global growth of 30%.
Mobile adblock usage grew by 108 million, reaching a total of 380 million active devices, the report found.
Despite ever smaller numbers of people using desktop and laptop computers, adblock usage on these platforms grew by 34 million to reach 236 million active devices.
"The state of the blocked web" introduces new empirical global, regional, and national data on adblock usage and is the first unified data available for both mobile and desktop adblock usage. It reveals that the "blocked web"—the part of the web where users block ads—has grown to 11% of the global online population.
"The continued growth of the blocked web is a serious challenge to the digital media industry, but it is also a singular opportunity to start over, avoid the mistakes of the past, and serve ads that don't annoy users," said PageFair CEO Sean Blanchfield.
The report also introduces insights about the demographics and motivations of adblock users, drawn from a survey of over 1,000 adblock users in the United States.
Adblock usage has spread from its "early adopter" base of young males to a broader demographic that includes men and women of all ages. Concern over viruses and malware was the top reason cited for using adblock software.
The report also examines reactions to publisher adblock walls. 74% of adblock users report leaving websites when blocked from accessing content. 77% of adblock users were willing to view advertising. These users preferred static banner ads and skippable video ads, but disliked non-skippable video ads.
Blanchfield commented, "Serving tamper-proof and non-interruptive ads is preferable to turning users away from websites. We are heartened to see hundreds of websites follow Facebook's lead by first listening to users and fixing problems before serving ads."
Mobile on the rise
The rise of international ad blocking has coincided with a rise in mobile ad blocking. Sixty percent of ad blocking (308 million devices) occurs on mobile now. It is projected that mobile ad blocking will continue to make up a larger chunk of the overall ad block pie. According to Akhtar, mobile ads are more likely to prompt poor user experiences, which gives users more incentive to block them.
Mobile by country
Ad blocking is largely a desktop phenomenon in the U.S., where desktops were the primary way Americans accessed the internet when ad blocking started. Other countries such as China bypassed desktops and went straight to mobile once the internet became accessible there.
The U.S. is an outlier in its prevalence of desktop ad blocking. Among countries that have more than 30 million devices blocking ads, the U.S. is the only one that has more desktop than mobile ad blocking.
Source: PageFair
Mobile ad blocking trends: frustration key motive
Ad blocking continues to be a controversial subject, but only half of US users are aware of filtering software, according to a new report.
This special report in collaboration with Adblock Plus, The State of Mobile Ad-blocking in 2017, takes a deep-dive into the attitudes of U.S. consumers towards ad-blocking and online advertising to find out what's behind this growing trend.
Key findings
• Only half of device users in the United States are even aware that they can block ads on their mobiles.
• Ad-frustration is the primary driver behind ad-blocking in the U.S.
• One fifth of smartphone owners say they don't mind seeing ads on their mobiles once they're respectful.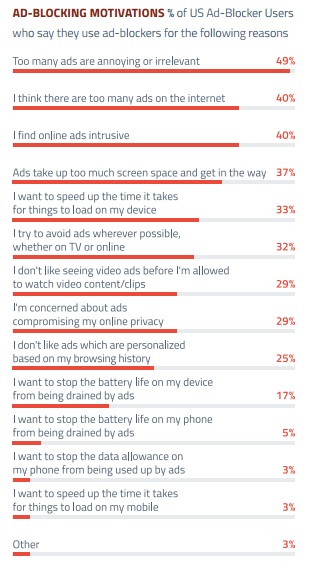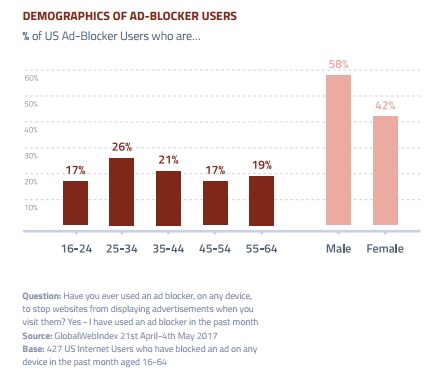 Report highlights
• Despite mobiles being one of the most commonly owned devices in the US, they lag significantly behind PCs and laptops as a device used for ad-blocking – only 22% of current ad-blocker users are blocking ads on their smartphones (meaning only 15% of US internet device owners block ads on mobile).
• Only half of internet device owners in the USA are even aware that they can block ads on their mobile. And if we look only at those who have not blocked ads on a mobile, more than 6 in 10 state that they did not know that it was possible to do so.
• Ad-frustration is the primary driver behind current adblocking uptake in the US. Ad-blocker users are most likely to state that ads are intrusive, they are irrelevant, or that there are simply too many of them.
• There is plenty of evidence indicating an underlying demand for mobile ad-blocking tools, and as such there is likely to be a substantial addressable market should awareness of these tools increase. For example, 1 in 3 smartphone owners say that they see too many ads when browsing the mobile internet and a large section of this group are currently unaware of mobile ad-blocking.
• The need to download an additional browser in order to be able to block ads (particularly on Android devices) is slowing mobile ad-blocking adoption. Only 14% of smartphone owners in the USA say that they use an additional browser.
• Brand familiarity (or lack thereof) stands out as another potential barrier to mobile ad-blocking uptake. Smartphone owners say they are most likely to choose their mobile browser because they knew the brand, and over 3 in 4 of those who are aware of the existence of mobile ad-blocking are unable to name an app or a browser which allows users to block ads on mobile.
• There remains little willingness or recognition on the part of many consumers to accept that ads – even if they are respectful – are at the core of free content online. 1 in 2 smartphone owners in the USA state that they would prefer to block all ads on their mobile device. However, it is still one fifth of smartphone owners who say they don't mind seeing ads on their mobile if they are respectful, while a similar number say they are willing to donate money to support websites.