The issue of sizing is a huge challenge for the global fashion industry, due to a lack of a universal sizing system, which leads to a large number of returns. Isabelle Ohnemus, founder and CEO of EyeFitU, discusses technological and collaborative solutions which the fashion industry should consider to best manage this issue.
Introduction
With the meteoric rise of online shopping, the retail industry has opened up new ways of serving and connecting consumers. According to Business Insider and Capgemini, 2016 saw online purchases in the UK rapidly increase by +16% over last year, exceeding forecasted expectations by 5%, with mobile phones emerging as the preferred shopping channel by consumers. App Annie's 2016 Retrospective said that 31% of mobile sales were made on mobile, demonstrating just how fast the world of online shopping is evolving. Despite e-commerce and m-commerce becoming  essential for improving a brand's sales performance, retailers are still faced with one glaring global challenge –  the epidemic of returns.
The impact of returns on the retail market
Last year Clear Returns reported that postal returns set UK retailers back a staggering £60bn, a third of which are directly attributed to online purchases. The rise of online shopping marked a significant change in shopping behaviours offering speed and convenience. A common trend then emerged – millions of customers started buying multiple items of different sizes, thus returning the ones which didn't fit.  The Financial Times reported in January 2016 that the cost of returns are often double or treble of what delivery costs are, meaning a major loss for retailers.
In 2016 Barclaycard reported that six out of ten retailers suffered the consequences of the "serial returners", reporting that managing returns was negatively affecting business, and one-out-of-five admitted to increasing  their prices to cover return costs. According to  Barclaycard, this attempt at being competitive and meeting consumer needs has forced many retailers to re-think their sales strategy and, in the extreme scenarios, to give up on online sales completely. The fashion industry tops the consumer industry verticals table for online returns, as reported by the FT in 2016.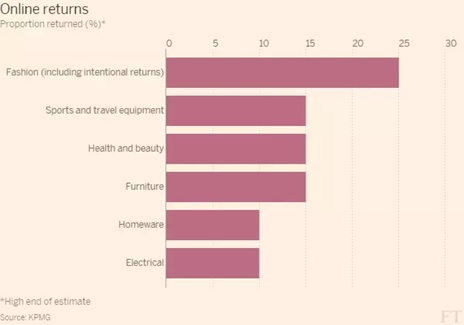 (Source: FT, 2016)
Back in 2016, the BBC News reported that 63% of consumers returned online clothes purchases, once again underlining the lack of a fashion industry global sizing standard.
Returns in the fashion business: the issue of sizing
Sizing is a significant challenge for the global fashion industry. Consumers are often dissatisfied with ill-fitting orders. Barclaycard research commented on the phenomenon of 'serial returners'. Their report stated that shoppers are more confident when buying multiple sizes, then returning the ill-fitting ones. The report also said that shoppers wanted standardisation in sizing, and for retailers to offer smart technologies to help them better visualise online clothes purchasing.
This infographic visualises the non-existence of a sizing standard, with brands having their own size charts. A size 10 for women means something different for four well-known high street brands.
This discrepancy in the measurements creates different size charts, making customers confused when purchasing online. Shoppers often get disappointed with their fashion deliveries, resulting in them feeling frustrated and less confident when buying fashion online. Retailers see the negative effects on profit margins, in terms of returns and customer loyalty.
The infographic also shows how customers experience the stress of finding optimum sizes, reflected in the high number of returned clothes purchased online. The rising percentage of sales made online and the consequent rate of returns makes it clear that retailers need to deliver a higher quality shopping experience that mirrors the one they get in-store. The industry needs a  seamless solution that focuses on personalisation and on smart data to create an improved relationships between brands and consumers.

Conclusion: the evolution of fashtech
The fashion and tech worlds need to integrate more closely. By doing so the fashion industry will start to discover true holistic solutions to solve the global issue of sizing, investing in the digital solutions i.e personalisation tools powered by machine learning and big data.  The fashion industry collectively needs to invest in effective and innovative strategies, otherwise the epidemic of returns will only get worse.
By Isabelle Ohnemus
CEO