Pepsi, T-Mobile and Avocados from Mexico racked up the most Twitter engagement during the Super Bowl, according to new research.
More than 27.6 million tweets were sent last night during Super Bowl 51, with many social media useretalking about the ads as much as they were about the game itself.
This year, fans sent more than 27.6 million Tweets globally about #SB51 during the live telecast on @NFLonFOX, uncluding pre- and post-game conversion.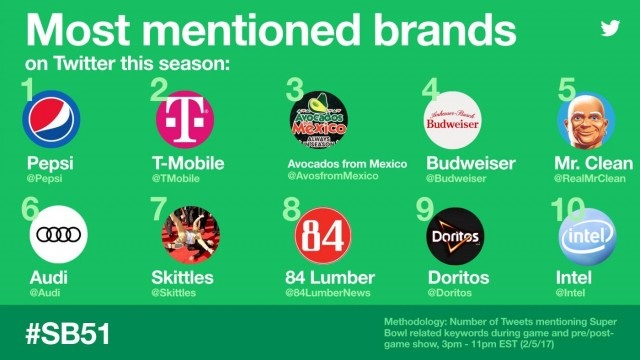 Below are the brands that stole the spotlight during this year's Twitter Ad Bowl, ranked by Twitter chatter:
1. Pepsi (@pepsi)
There are a million reasons to love #Joanne, but here's one more: a ✒️️ CD #ForTheFans. RT for #Entry #PepsiHalftime https://t.co/T8ddyXGhkn pic.twitter.com/LaSOCXSjn5

— Pepsi™ (@pepsi) February 6, 2017
2. T-Mobile (@TMobile)
We wanna see you drop it low! Tweet video of your best touchdown dance with #UnlimitedMoves and you could be RT'd by @JustinBieber! pic.twitter.com/AIU0euphtS

— T-Mobile📱 (@TMobile) February 6, 2017
3. Avocados from Mexico (@AvosfromMexico)
Our #BigGame spot is out! The greatest of all the #AvoSecrets has been leaked. The world knows #Avocados have good fats. The truth is out! pic.twitter.com/SCMlXOucWj

— Avocados From Mexico (@AvosfromMexico) February 2, 2017
4. Budweiser (@Budweiser)
This is the story of our founder and his pursuit of the American Dream. #ThisBudsForYou pic.twitter.com/TuJO7NSEWs

— Budweiser (@Budweiser) January 31, 2017
5. Mr. Clean (@RealMrClean)
.@terrybradshaw! What's up with the stain? Not sexy my bald buddy. #BradshawStain #SB51 pic.twitter.com/EpNtFanw1Q

— Mr. Clean (@RealMrClean) February 6, 2017
6. Audi (@Audi)
Progress is for everyone. At Audi, we are committed to equal pay for equal work. #DriveProgress pic.twitter.com/pF0t14ido8

— Audi (@Audi) February 6, 2017
7. Skittles (@Skittles)
My #SB51 commercial is like a beautifully thrown touchdown filled w/ love and Skittles. I'm crying just writing about it. #TasteTheRainbow pic.twitter.com/RpWAZISXVP

— Skittles (@Skittles) February 6, 2017
8. 84 Lumber (@84LumberNews)
Our complete Super Bowl story. See a mother & daughter's symbolic journey toward becoming legal American citizens. https://t.co/AiI3MLrVd5

— 84 Lumber Company (@84LumberNews) February 6, 2017
9. Doritos (@Doritos)
When you just can't give up your spot on the couch to refill the Doritos, @AmazonEcho makes the completion. https://t.co/mFw1VuwQBi

— Doritos (@Doritos) February 6, 2017
10. Intel (@intel)
Don't call it a comeback. Brady put the O.T in G.O.A.T. See our first ever fan-made video with Tom Brady. #ExperienceMore #SB51 pic.twitter.com/oR8M2SQyum

— Intel (@intel) February 6, 2017