Lucasfilm announced today that they are teaming up with four well-known brands—O2, World Duty Free, Gillette and Kaspersky—for the launch of a UK and pan-European promotional campaign in support of "Rogue One: A Star Wars Story," opening in the UK on December 15.
"We are extremely pleased to be working with four such outstanding European promotional partners for 'Rogue One,'" said Lynwen Brennan, General Manager of Lucasfilm. "This first in a series of Star Wars standalone films represents an exciting new era for both Star Wars and Lucasfilm, and the brands joining us on this exciting journey have each designed a stellar campaign capturing the spirit and camaraderie of 'Rogue One.'"
O2's UK-only campaign, kicks off with an opportunity for its customers to be amongst the first in the world to see "Rogue One: A Star Wars Story".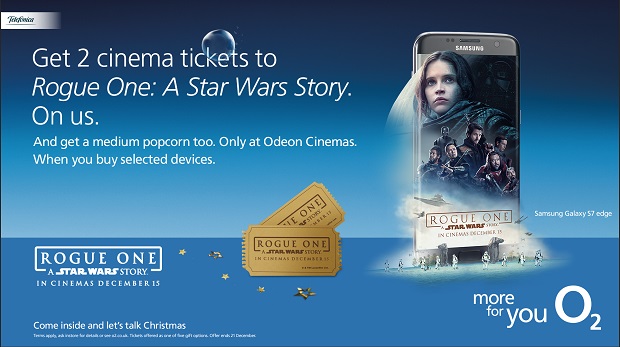 O2 customers will be able to use their Priority app to win tickets to attend an exclusive pre-release screening of "Rogue One". In addition, in the second phase of the campaign, consumers who purchase an O2 product* within the eligibility period, will be able to select one of five exclusive gifts including a pair of tickets to "Rogue One" or a six month DisneyLife subscription, the unique digital membership service that gives fans access to the biggest collection of Disney and Disney.Pixar movies, Disney Channels TV box sets, books, and music, all in one place.
World Duty Free is also collaborating with the film with a spectacular experiential marketing campaign in their Gatwick stores and throughout the Airport: "Rogue One lands at World Duty Free, Gatwick". This exciting passenger experience, designed to drive footfall and in-store purchase will see three unique and innovative core pieces of experiential marketing activity combining digital, theatrical and on airport media with exclusive content – a Rogue One costume display and a unique 360 Star Wars virtual reality experience, all supported with the biggest on airport media campaign that Gatwick airport has experienced.
Gillette, the world's leading men's grooming brand, has launched a pan-European campaign entitled "Every Story Has a Face" including a long-formspot that links the stories of the unknown faces within the Star Wars universe with the fact that every person's face conveys their story through the look they choose to craft. The campaign also features one of a kind, special edition "Rogue One: A Star Wars Story" Special Edition Gift Packs that include four custom designs with iconic Star Wars assets and Gillette products.
Global internet security company, Kaspersky Lab, will also be joining forces with Rogue One across 14 European territories, linking their top tier product, Kaspersky Total Security, with the themes of security in the film. Kaspersky's extensive media campaign across digital, pre-roll, outdoor, online and social will offer consumers purchasing its Ultimate Protection product a Rogue One: A Star Wars Story digital screensaver.
Anna Hill, CMO, Disney UK & Ireland, said: "Our brand collaboration strategy for "Rogue One: A Star Wars Story" ensures each campaign hits a different audience for the movie, whether that's young adults through the O2 Priority App, families at World Duty Free and Gatwick or tech savvy consumers through Kaspersky. We've worked with like-minded brands to develop creative campaigns that work for their business objectives and leverage the strong relationships Star Wars stories have with so many people."
"Rogue One: A Star Wars Story" is directed by Gareth Edwards and stars Felicity Jones, Diego Luna, Ben Mendelsohn, Donnie Yen, Mads Mikkelsen, Alan Tudyk, Riz Ahmed, with Jiang Wen and Forest Whitaker. Kathleen Kennedy, Allison Shearmur and Simon Emanuel are producing, with John Knoll and Jason McGatlin serving as executive producers.
"Rogue One: A Star Wars Story" opens in U.K. theatres on December 15, 2016.