The holiday shopping season officially kicks off next month, and brands that don't have a clearly defined mobile marketing plan to make the most of it will be outpaced quickly by those that do, writes Katie Jansen, Chief Marketing Officer at AppLovin.
During Q4, Black Friday, Cyber Monday, and the holiday season in general should be top-of-mind for retail mobile marketers.
Indeed, at this point, the trend is clear: consumers are increasingly turning to mobile for their holiday shopping. In the 2015 holiday season, mobile transactions accounted for nearly 1 in 5 holiday purchases and mobile sales increased 58.5 percent over the 2014 holiday season to hit $12.65 billion. Last year over Black Friday weekend, mobile transactions accounted for 32.1% of all online purchases (an increase over 26.4 percent in 2014), and Cyber Monday mobile sales surged by nearly 53 percent over 2014's figures.
Much of modern mobile marcomms is geared toward driving consumers to mobile websites to download mobile apps. To fully maximise the potential of the holiday shopping season, marketers need a plan which delivers through the entire funnel:
Drive customer acquisition:
● Focus on all viable consumers with your most successful and proven mobile ads and emails, tailored for the holiday season. (upper funnel)
Re-engage mobile customers:
● Target consumers who have your mobile app and engage with them via ads and push notifications, which will encourage them to continue shopping with your mobile app. (mid funnel)
Focus on the best experience to encourage conversion:
● Deliver a truly seamless UX by deep linking directly to your product/service pages, and ensure streamlining of your purchase/check-out process, e.g. explore smooth payment processes like Apple Pay or Android Pay. With these, a single touch will confirm payment, without the need to enter personal info like credit card details each time. (lower funnel)
Here are some of our best practices for delivering a best-in-class mobile marketing strategy which will help your company to smash sales KPIs for mobile in Q4:
1. Utilise personalised and dynamic content
Email and push notifications are excellent tools to make consumers feel special as you're offering them customised content and offers. Employ best practices like integrating an immediate welcome message when consumers sign up. Take into account the time of day or night when users engage with your mobile app. Communicating with consumers with a tailored, customized approach increases engagement.
Leverage data you have on your customers' browsing and purchasing habits to drive what you display, when.
Join forces with a mobile marketing platform that enables you to deliver mobile ads and messages for your products and services that are truly relevant to your customers. You'll see results in terms of engagement and higher LTV.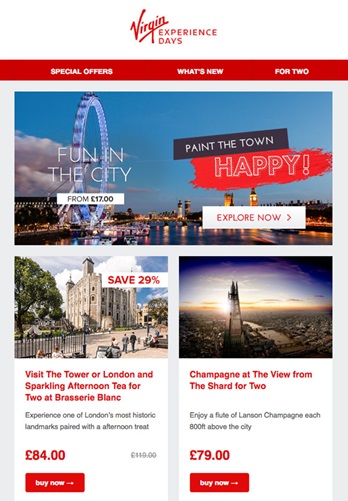 2. Ensure your creative is mobile-friendly
Striking, high impact design is a significant component of successful mobile marketing. The design and style of your mobile app needs to take into account the multiple platforms through which your target consumers will see your messaging. Your creative strategy should consider that your target audience will engage and interact on small screens, so make sure your fonts are big (16 to 22 point), and deploy simple yet intuitive layouts. Calls-to-action should be touch-friendly throughout.
Virgin employs email best practices and swiftly integrates these into its email campaigns. In the example below, the content is easily viewable across mobile, tablet, desktop and laptop platforms, with a clear call-to-action 'explore now' button, which is in stark contrast with its background.
3. Deep link in your mobile app to ensure easy buying
A deep link is a link that connects to a page other than a homepage. The challenge on mobile is that there are millions of apps but much of the content inside is not accessible. That's where deep linking comes in — deep links enable you to direct users inside mobile apps, to the specific pieces of content you are advertising (and that they were drawn to). The ability to deep link to specific pieces of content, like actual product pages, inside mobile apps can improve engagement and increase conversion rates. Deep linking empowers businesses to drive consumers to the content the consumers want.
4. Track and attribute successes
Make sure to track metrics (there are numerous out-of-the-box mobile tracking and attribution solutions available) and then attribute these to the relevant platform/channel. KPIs for core mobile marketing channels include clickthroughs, conversions, and actual purchases.
Ensure you share purchase/transaction data with your mobile marketing platform partners, so you are able to see which channel/platform is actually driving purchasing. Then you can optimise your campaigns for actual ROI.
Once you have the data, use it. Are customers not opening your emails, not tapping on your push notifications, or not converting from your ads? You can always improve, so test different communication tactics, offers, or send times.
Conclusion
There's a massive opportunity this coming holiday season for brands that invest the time and resources in creating compelling and engaging mobile marketing campaigns and use data to iterate and improve their results. Ads should be targeted so that users engage with them and have a great experience with your brand. Smart mobile advertising this holiday season won't just pay off in Q4 of this year — it will set your brand up for success in 2017.
By Katie Jansen
Chief Marketing Officer
AppLovin