Having great email content is not enough- marketers need to ensure it reaches the right inboxes at the right time. Tom Corbett, Experian offers a guide to getting the most out of email deliverability.
Email marketing is a marketer's most powerful tool. Not only does it produce impressive ROI, it's also highly measurable. It's not uncommon to hear people boast about high deliverability as one of these metrics. However what does 'deliverability' actually mean? Statistics suggest that 1 in every 5 emails fail to land in the inbox which means 20% of opportunities to connect with customers are being missed.
Having great deliverability is what every marketer strives for but it is something that has been difficult to define. Often what marketers believe to be a measurement of their deliverability is in reality the proportion of emails that were 'accepted'. An email is considered to be delivered if it does not bounce or doesn't get returned to the mail server stating it was unable to be delivered for a specific reason. Delivery rate is a calculation of mail sent minus the volume that bounced. In order for campaigns to be successful, marketers need to ensure that what they're sending is not becoming stuck in spam or ignored. Deliverability is making sure you are doing what you can to put yourself in the best position to be actually seen by your email subscribers. With this in mind, we need to understand what happens after you click send.
Often, we don't pay much attention to the journey an email takes, but it's important to understand what has happened when it doesn't go to plan. Emails often feel instantaneous but the reality is that the average email goes on a long journey through many different filtering systems before it reaches an inbox.
All Internet Service Providers (ISP) have developed different filtering methods as a way of offering unique customer experiences when it comes to their inboxes. They all offer a form of global level blocking which makes a big difference in the world of email spam.
Now spam (spam, spam, spam, spam…) is often a word that is synonymous with annoying people. No one likes spam. Marketers shouldn't be sending it because, quite simply, no-one likes receiving irrelevant mail.
However, not only is it annoying and damaging to the customer experience on an individual level, it is also potentially quite dangerous because not all spam is the result of 'innocent' unsophisticated marketing.
Malware is hugely profitable for scammers and costly to the individuals who fall foul of them. 70% of mail sent globally is considered spam and these filters drastically reduce the volume coming to your inbox. But everyone's interpretation of what they consider to be spam is different. A saying I like is 'one person's spam is another man's ham'. As a result, local level blocking has given the recipient the power to take control of their inbox.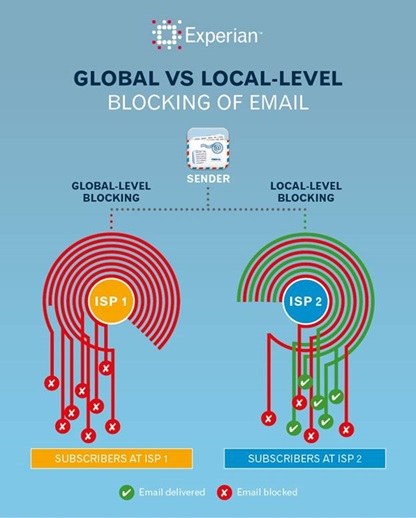 The importance of humanisation in email communication is increasingly important and making your email wanted is the key to a successful mail programme.
Google recently updated its Gmail Android app to give its customers greater control of their mailbox on their personal devices. Blocking a sender means all future mailings are instantly moved to the spam folder.
This means you need to ensure your recipients actually want to receive your messages. Personalisation and relevance are crucial. What is there to lose? By providing a more relevant and positive customer experience you're putting your customer at the centre of your marketing strategy and they'll reward you with it with their time and attention.
By
Tom Corbett
Senior Deliverability Specialist
Experian