A "state of the data nation" infographic reveals that the European market for audience data almost tripled from Q4 2014 to Q4 2015, experiencing a massive 154% growth.
The findings, from Eyeota, come as part of its first annual Index looking at audience data spend within programmatic.
Key trends include:
• Finance, Automotive and Electronics & Computers were the biggest spenders in the UK
• Financial services are consistently one of the largest buyers of audience data
• Automotive advertisers were prepared to pay 1.4 times more on average than other vertical sectors
• Sociodemographic data reigns supreme, accounting for 63% of all audience data purchased in the UK
Demand for audience data for programmatic campaigns is growing, with the UK market almost tripling with 154 per cent growth in Europe from Q4 2014 to Q4 2015.
The Eyeota Annual Index identifies global audience data trends derived from thousands of campaigns implemented by hundreds of agencies utilizing Eyeota's 1.8 billion unique profiles across 60 countries in 2015.
View the infographic below: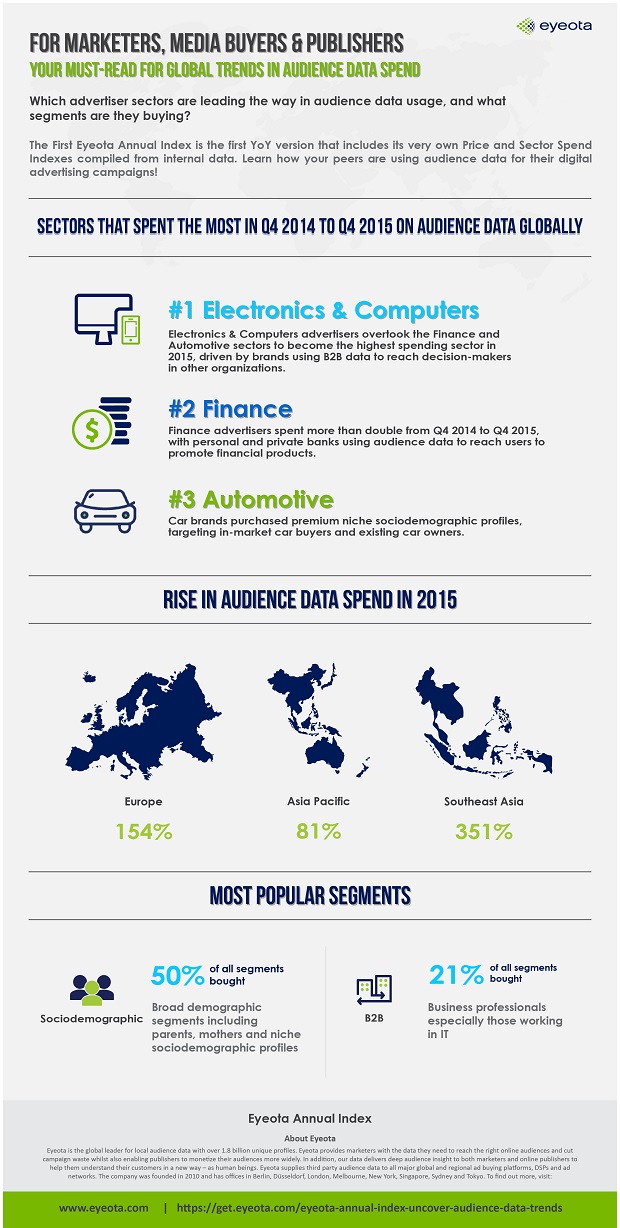 Key Year-on-Year UK Trends
• Globally, the top three biggest spenders (ranked from highest spending sectors) were the Electronics & Computers, Finance and Automotive sectors
• In the UK, the Finance, Automotive and Electronics & Computers were the biggest spenders
• Finance advertisers are consistently one of the largest buyers of audience data, with advertisers specialising in personal banking, insurance, loans, savings and investments targeting niche sociodemographic profiles. These include users interested in real estate, investments, financial services or mortgages
• Automotive advertisers were prepared to pay 1.4 times more than the average of other categories of advertisers for audience data in order to target specific users based on car brand ownership or the age of the existing car
• Electronics & Computers' advertiser spend nearly tripled from Q4 2014 to Q4 2015, which was reflective of global trends. Significant branding pushes prompted advertisers to invest primarily in B2B data in order to reach IT decision makers
• 63 per cent of all data purchased in the UK was Sociodemographic
Kevin Tan, CEO of Eyeota, commented: "There was a major uptick in programmatic ad buying in 2015, but campaigns are only as good as the data underpinning them. The results of the year-on-year comparison not only allow us to understand seasonal trends in data purchasing, but the rate at which the demand for data is rising worldwide. This reflects the increasing importance that audience data plays in empowering advertisers to connect with audiences on a human level. This enables advertisers to deliver ads more effectively to build brand affinity."