As Twitter celebrates its 10th birthday, the future isn't looking so bright for the social media site and critics question whether it will last another 10 years. New stats look at the biggest successes and failures of the social network.
To give it a quick health check, Hotwire's Insights and Analytics team wanted to check how engagement on Twitter has evolved over the past decade. And who better to look back at than the founders themselves and see how much they still engage with their own platform?
Hotwire's analysis has found that since Twitter's hay day in 2010, it's been a downhill slope for Twitter engagement from its founders.
Twitter's 10th Birthday Statistics
Overall number of founders' tweets per year: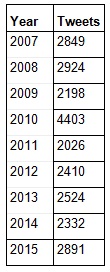 Number of individual founders' tweets per year:

Matt Cross, Deputy MD, UK at Hotwire PR said "Social media should never be measured on how many users there are, but how much those users are using it. It's certainly surprising to see that even the founding fathers of Twitter are less engaged on their own social platform. Does it show the demise of the platform, or perhaps just a lack of interest from a group of highly influential entrepreneurs who have simply moved on to the next big thing? The next 10 years could be incredible for Twitter, but it needs to evolve drastically and the focus from those at the helm in achieving this is paramount."
Source: Hotwire's Insights and Analytics