Facebook-owned Instagram will be used by nearly one in four smartphone users worldwide this year, according to eMarketer's first-ever global forecast of the photo- and video-sharing social platform, released this week.
Since Instagram's launch in 2010, the app has continually innovated and added new features in a bid to attract new users. The updates have proved particularly popular with younger audiences, and last year Instagram grew its overall user base by almost 45%. eMarketer predicts that by the end of 2017, Instagram's global audience will total 593.7 million users.
In the coming years, eMarketer expects Instagram's growth to cool down from the explosive rates seen between 2015 and 2017. The primarily mobile-based platform does have some boundaries, especially when compared with Facebook—which attracts considerably more desktop-oriented users and older individuals. By 2021, Instagram will reach 927.9 million users worldwide, representing 30% of social network users, eMarketer projects. Instagram's audience in 2017 will be a little more than 38% the size of Facebook's and more than double that of Twitter, which it overtook in early 2015.
"Instagram's exponential growth in popularity over the past two years is a direct result of new product updates and features, including Instagram Stories, live video, geostickers and face filters, which have kept its user base active and engaged," said eMarketer forecasting analyst Cindy Liu. "We see no signs it will slow down in the near future, and Instagram's push toward international markets will continue to fuel growth."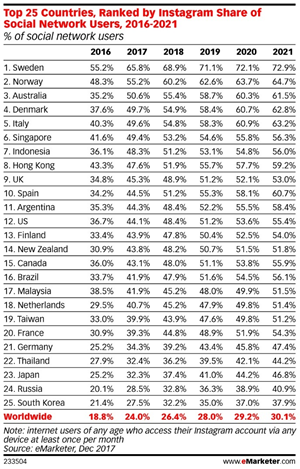 Methodology
eMarketer's forecasts and estimates are based on an analysis of quantitative and qualitative data from research firms, government agencies, media firms and public companies, plus interviews with top executives at publishers, ad buyers and agencies. Data is weighted based on methodology and soundness. Each eMarketer forecast fits within the larger matrix of all its forecasts, with the same assumptions and general framework used to project figures in a wide variety of areas. Regular re-evaluation of available data means the forecasts reflect the latest business developments, technology trends and economic changes.