Instagram is now letting its users follow hashtags based on their interests, in a move that could make streams more engaging while open up new marketing opportunities.
Under the new system, users need to tap a hashtag and press the blue Follow button that pops up at the top of the screen.
Users can discover new hashtags they might also be interested in by scanning the 'Related' bar below it.
Top photos and videos from any hashtags will automatically get pulled into their feed, and recent Stories using the hashtags will appear in the Stories bar.
Conversely, Instagram may pull in a post that uses a hashtag a user follows, when the picture doesn't actually have anything to do with the topic they are interested in.
#goat, for instance, will be populated with pictures of goats and updates proclaiming something or somebody to be the "greatest of all time" at a particular activity.
Users can also help train the system to understand what they are interested in by 'Liking' updates and tapping the menu button above posts they don't want to see again and pressing the 'Don#t show' button.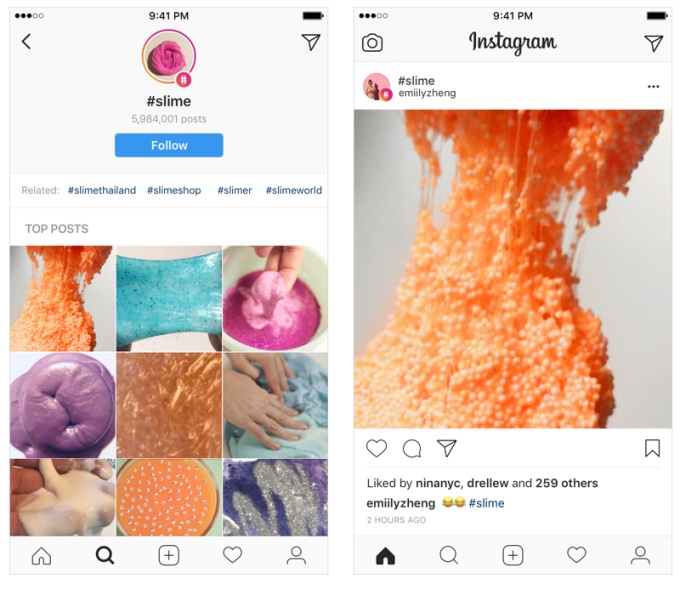 To mark the launch of the new feature, Instagram has also altered the Following page. It's now split in two section: People and Hashtags.
If you have a public profile, anyone will be able to see which hashtags you follow. If you have a private profile, the hashtags you follow will only be visible to your followers.
"Today we're introducing the ability to follow hashtags, giving you new ways to discover photos, videos and people on Instagram," the company wrote in a blog post. "Now it's even easier to stay connected with the interests, hobbies, passions and communities you care about."
To weed out spam and objectionable content, Instagram will use automated and manual systems for flagging inappropriate posts and blocking their authors.
Hundreds of people on its community operations team will be monitoring user and automated reports to review content 24/7.
The company says that over the past few months it's made improvements to how it sources and ranks hashtag content to ensure what's shown on hashtag pages is safe, and uses large teams to analyze hashtag trends.
Instagram's hashtags are another expression of Facebook's new overarching mission to "bring the world closer together." Like Facebook's Groups, hashtag following lets users explore outside of their own social bubble.