As the UK waits in anticipation for tonights's Great British Bake Off winner, Hitwise releases data crowning Lyles Golden Syrup to be the winning sponsor of this series, as data shows searches for the brand have increased 46% since the show began.
In comparison, the second sponsor, Dr Oekter, saw a mere 13 per cent increase over the same period.
Through analysing the search behaviours of 3 million consumers throughout the entirety of this seasons GBBO, Hitwise reveals:
• Searches for NEFF ovens increased 19%
• Dr Oekter searches saw a mere 13% increase
• Lemon Drizzle is named the nation's favourite cake, with Carrot Cake a close second (full list below)
• Supermarkets can expect a flurry on caramel ingredients in the run up to the Christmas baking season, with 442% increase in searches for "caramel recipe"
o Caramel Week was the most popular week of the GBBO series (full breakdown below)
• Searches for cake have increased 18% since the series began
o 4.4% of all 'vegan' searches related specifically to 'cake' in the past four weeks
Hitwise reveals 'Caramel Week' was most the most popular week of all. Brits felt so inspired to recreate showstoppers of their own, Hitwise data recorded a staggering 442 per cent increase in searches for "caramel recipe" in the week following the episode. Hitwise even found that 'NEFF oven' searches witnessed a 19 per cent increase, despite Stacey managing to break hers in last week's episode.
Second, came 'Biscuit Week'. In the week following sandwich biscuits and biscuit boards, searches for "biscuit recipe" increased by 58 per cent. 'Pudding week' came in at the third most popular week, sparking memories of school dinners for many Brits, as searches for "pudding recipes" increased nearly a quarter (23%).
Nigel Wilson, Managing Director, Hitwise says, "The Great British Bake Off's switch from BBC to Channel Four sparked moments of controversy in the media earlier this year, but clearly the show has retained its base of loyal viewers. As the UK viewed the show for the first time with sponsored adverts, our data has shown how brands, particularly Lyles Golden Syrup, have truly optimised and engaged their target audiences, and even helped to inspire customers to get baking."
The UK's favourite cakes, based on searches (w/e 22nd October)
1. Lemon drizzle cake
2. Carrot cake
3. Banana cake
4. Chocolate cake
5. Apple cake
6. Savoy cake
7. Birthday cake
8. Christmas cake
9. Red velvet cake
10. Unicorn cake
Data source
Hitwise sources data from a range of panel providers which allows the monitoring of three million people across the internet, within the UK on a daily basis. The internet behaviours are sampled and weighted using algorithms to be representative of the entire UK population.
Sentiment analysis
Ahead of tonight's finale, social sentiment analysis from 4CInsights also unveils the show has yet to recover from the criticism over Liam Charles' early departure in 'Forgotten Bakes' week.
Positive sentiment towards the show was highest at the season's opening (80%) and at episode six (82%), in which Liam was crowned Star Baker of Pastry Week. In the aftermath of Liam's exit, sentiment dropped by 33%.
The semi-final recovered some 10% of the warmth audiences lost after episode eight, but still lingers at just 59% going in to Channel 4's first Bake Off final.
– Social sentiment analysis by data science and media technology company, 4C Insights, suggests the finale to Channel 4's inaugural season of Bake Off could be a controversial affair, with Facebook and Twitter sentiment dipping below 49% in the aftermath of contestant Liam Charles's early departure from the show.
Despite moving from the BBC, season eight of the hit show opened to a rapturous 80% positive sentiment on the 29th August, with in excess of 79,000 Facebook and Twitter users mentioning, retweeting and liking the show's content.
However, it was episode six, in which Liam was crowned Star Baker, that sentiment towards the show peaked at an impressive 82% positive engagements. The Pastry Week episode also still featured popular contest Chuen-Yan, who was booted off the next episode of the show, taking sentiment down by 19%. This was reported in the media as potentially being the "first unjust elimination of the series".
Fortunately for Channel 4, the semi-final was well received and most notably picked up more than twice as many engagements as the prior episode, generating just shy of 48,000 engagements in total. Sentiment towards Patisserie Week showed a 10% improvement, suggesting Bake Off seems to be making important reparations for depriving audiences of two of their favourite contestants before tonight's final.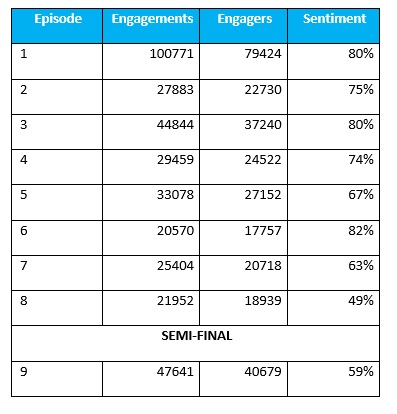 About the research
1. Engagement: Mentions, retweets, comments and posts likes from Facebook pages and Twitter handles between 26th – 29th October.
2. Sentiment: Percent of social media interactions that were positive and not negative