A cute commercial for Android featuring clips of unlikely animals playing together is the most shared ad of 2015, according to data released today by video ad tech company Unruly.
Data analysis of 1,300 ads proves that 2015 was a highly emotional year for video ads. On the one hand, warmth and happiness shone through, with brands using fluffy pets and simple storylines to melt our hearts and amplify sharing.
Key findings
Google Video also Overtakes "Activia's La La La" to Become Most Shared Ad of all Time
Spots from Disney, adidas, Samsung and Budweiser included in Video Ad Tech
Company Unruly's Annual Top 20 Ranking as Shares Increase by 39% from 2014
PSAs & Ad Campaigns Supporting Good Causes also Dominate List
"Friends Furever" – which depicts some surprising animal friendships – has attracted 6,432,921 shares across Facebook, Twitter and the blogosphere since its launch in February, putting it ahead of Disney's "Surprise Shoppers"campaign, which took second spot in Unruly's annual Top 20 Global Video Ads Chart.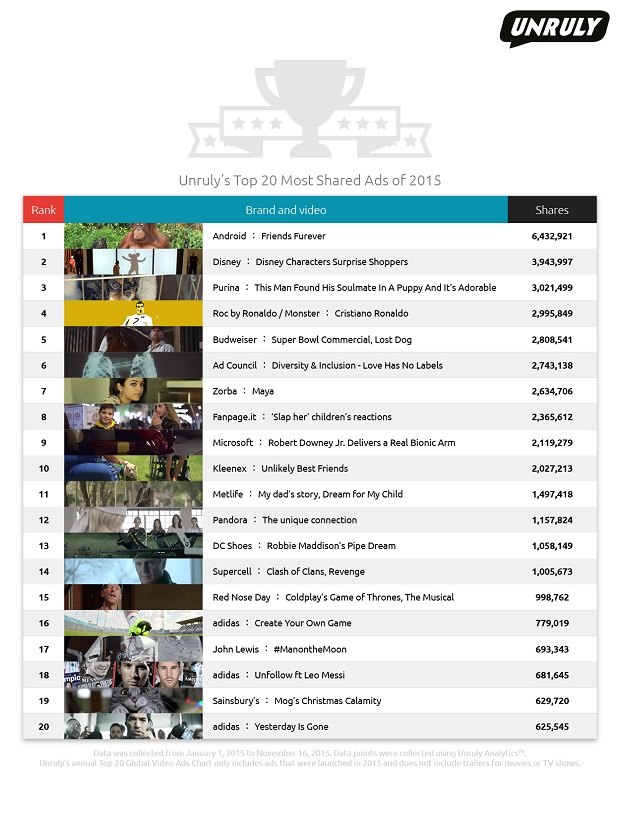 It not only makes it this year's landslide winner, but also the most shared ad of all time – ahead of last year's top ad, Activia's World Cup ad "La, La, La", which has attracted 6,094,762 shares across social media since its launch in 2014.
In third place is a commercial created by Buzzfeed Video for Purina pet foodabout one man and his pup (3,021,499 shares), while ads for Budweiser (5th – 2,808,541 shares) and Kleenex (10th – 2,027,213 shares) continue the animal friendship theme. A heavily-disguised Cristiano Ronaldo dribbles his way into fourth place with an ad for his own line of headphones for Monster (2,995,849 shares). Three adidas commercials make it into the Top 20 – the most for any single brand.
Unruly's President, US, Richard Kosinski said: "We've been collecting and analysing consumer data on video consumption and sharing patterns since 2006 and one of the key drivers to video shareability is emotional intensity – how an ad makes a person feel.
"From the joy you feel when your pup welcomes you home to nostalgic memories of your childhood pet, animals can tap into a wide range of emotions that have broad appeal. By placing the focus on friendship and shared experiences, advertisers in 2015 have successfully used dogs, cats and other furry friends to provoke strong feelings of warmth and well-being."
The Ad Council's "Love Has No Labels" (6th – 2,743,138 shares), aimed at promoting diversity and inclusion, is one of eight campaigns supporting good causes to also make it into this year's top 20.
Other examples include a Microsoft video featuring Iron Man actor Robert Downey Jr giving a young boy a prosthetic arm (9th – 2,119,279 shares), an anti-domestic violence PSA from Italian newspaper Fanpage.it (8th – 2,365,612 shares), aGame of Thrones and Coldplay partnership for Red Nose Day (15th – 998,762), John Lewis' Christmas cracker"#ManontheMoon", run in conjunction with Age UK (17th – 693,343), and British supermarket chain Sainsbury's festive ad"Mog's Christmas Calamity" (19th – 629,720), which supports charity Save The Children.
Unruly's most shared ads of 2015
1. Android – "Friends Furever" – 6,432,921 shares
2. Disney – "Disney Characters Surprise Shoppers" – 3,943,997
3. Purina – "This Man Found His Soulmate In A Puppy And It's Adorable" – 3,021,499
4. Roc by Ronaldo / Monster – "Cristiano Ronaldo – People are going to think I'm crazy!" – 2,995,849
5. Budweiser – Super Bowl Commercial "Lost Dog" – 2,808,541
6. Ad Council – "Diversity & Inclusion – Love Has No Labels" – 2,743,138
7. Zorba – "Maya" – 2,634,706
8. Fanpage.it – "Slap her": children's reactions – 2,365,612
9. Microsoft – "Robert Downey Jr. Delivers a Real Bionic Arm" – 2,119,279
10. Kleenex – "Unlikely Best Friends" – 2,027,213
11. Metlife – "My dad's story": Dream for My Child" – 1,497,418
12. Pandora – "The unique connection" – 1,157,824
13. DC Shoes – "Robbie Maddison's Pipe Dream" – 1,058,149
14. Supercell – "Clash of Clans: Revenge" – 1,005,673
15. Red Nose Day – "Coldplay's Game of Thrones: The Musical" – 998,762
16. adidas: "Create Your Own Game" – 779,019
17. John Lewis – "#ManontheMoon" – 693,343
18. adidas – "Unfollow ft Leo Messi" – 681,645
19. Sainsbury's – "Mog's Christmas Calamity" – 629,720
20. adidas: "Yesterday Is Gone" – 625,545
Unruly Co-CEO and co-founder Sarah Wood said: "Data analysis of 1,300 ads proves that 2015 was a highly emotional year for video ads. On the one hand, warmth and happiness shone through, with brands using fluffy pets and simple storylines to melt our hearts and amplify sharing.
"At the same time, other advertisers aligned themselves with social causes, evoking strong feelings of sadness and inspiration. It's not that Adland has lost its sense of humour this year; it's just that it's found a sense of higher purpose.
"Next year, we expect the advertiser focus to move away from warmth and happiness that were popular in 2015 to exhilaration. With its deluge of superhero, war and zombie flicks – from Batman v Superman to Pride and Prejudice and Zombies – being released in 2016, we can expect marketers to follow Hollywood with similar themes. Going into a quadrennial year of Olympics, European Championships and Presidential elections, the competition for consumer attention will be fierce and consumers will be looking for superhero brands to exhilarate and entertain them in 2016."
The 2015 chart also shows a significant increase in social media shares from the previous year. This year's top 20 attracted a total of 40,219,853 shares – a 38.50% increase from last year's top 20, which generated 29,038,725 shares altogether.
Ads for Samsung, DC Shoes, Supercell and Zorba, a Renaissance Studio based in India, also make it into the top 20.
Methodology
Unruly's rankings are based on the number of shares – as opposed to views – that ads on Facebook and YouTube attracted across Twitter, Facebook and the blogosphere. As such, they are a measure of the ad's online buzz or virality, ranking ads by the volume of active pass-on rather than the passive, paid metric of video viewership.
Data was collected from January 1, 2015 to November 16, 2015. Data points were collected using Unruly Analytics™. Unruly's annual Top 20 Global Video Ads Chart only includes ads that were launched in 2015 and does not include trailers for movies or TV shows.